Those who attend the 13th European Conference on Epilepsy & Society will not be disappointed, either with the city or with the conference itself. Already the European Regional Executive Committee (EREC) has spent a considerable amount of time discussing the congress – which will have the theme of Stand Up for Epilepsy to Break Down Barriers. Speakers have been identified and the official programme is almost ready.
The conference aims to inform people with epilepsy and their families, as well as those working in the field of epilepsy, about new developments in epilepsy treatment, associated cognitive dysfunction related to epilepsies, and the psychosocial implications that derive from this common brain disease and, of course, to provide solutions.
But, more importantly for people with epilepsy and their families, the meeting will facilitate communication and exchange of ideas among people with epilepsy and professionals in the field, right across Europe. The programme includes morning plenary sessions and afternoon discussion groups with as large as possible participation by delegates.
A new introduction is a Train-the-trainers workshop, which is currently being outlined. Further information will be available on the conference website as details are finalised.
As is becoming a custom for the Epilepsy & Society meeting, a special Youth Session and a Karaoke evening are also on the cards!
Besides having everything that all the other modern capitals have, Ljubljana succeeds in maintaining the relaxed atmosphere of a small city. This picturesque, compact and very vibrant city is full of surprises for the visitor.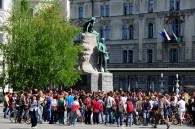 Ljubljana is classified as a mid-sized European city, but it has preserved its small-town friendliness and relaxed atmosphere while providing all the facilities of a modern capital. It is a very unique city dotted with pleasant picturesque places where you can expect all kinds of surprises.
The end of August is a great time to visit Ljubljana. The intense heat of summer will have subsided and pleasant temperatures of around 20 degrees can be expected. There is a range of accommodation available from 4* hotels to self-catering apartments and friendly bed & breakfast accommodation.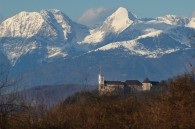 Within Ljubljana city there is much to see and a boat trip on the Ljubljanica river is a must. If you have time to spare, take the opportunity to move outside the city to enjoy the magnificant scenery that Slovenia has to offer. Who could fail to be enchanted by the town of Bled, one of Slovenia's most popular resort towns, famous for its alpine lake with an island in the middle on which is perched the beautiful Bled Castle? Or how about a tour of the picturesque towns and villages along the Mediterranean coast?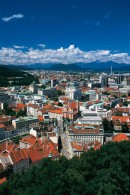 Ljubljana and EREC look forward to welcoming you to the 13th Epilepsy & Society Conference next year, for what is going to be an excellent gathering of wonderful people.
See you there!