30th International Epilepsy Congress
The 30th International Epilepsy Congress took place in June 2013 in Montreal. The Congress was a most successful and insightful event and we will be posting a report, complete with photographs in the near future.
For now, we would like to share some momentous photographs which were captured at the Awards Ceremony.
To read more about the Lifetime Achievement Award, the Social Accomplishment Award, the  Ambassador for Epilepsy Award and the recipients of each award, PLEASE CLICK HERE.
Ambassador for Epilepsy Award : Byung-In Lee with
Mike Glynn (Out-Going President of IBE) and
Solomon L. Moshé (Out-Going President of ILAE)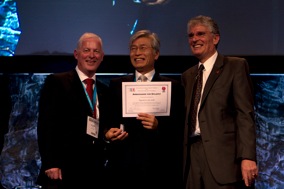 Lifetime Achievement Award with
Mike Glynn (Out-Going President of IBE) and
Solomon L. Moshé (Out-Going President of ILAE)