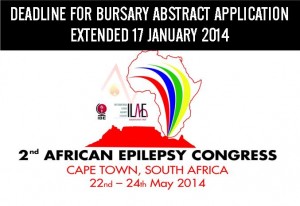 The 2nd African Epilepsy Congress (AEC) will take place in Cape Town, South Africa, on 22nd - 24th May 2014.
This congress is built on the foundations established through the 1st African Epilepsy Congress, held in Nairobi, June 21st - 23rd, 2012.
The 2nd AEC is a significant scientific event for the epilepsy community in Africa and farther afield. The programme comprises plenary sessions, topical lectures and interactive sessions.
Sessions of particular interest to people with epilepsy, their families and carers will take place in the Epilepsy and Society Day Seminar, on Saturday 24th May.
Important: deadline for bursary/abstract applications
Please note: the extended deadline for the submission of an abstract and/or bursary applications is 17th January 2014.
 Submit an abstract:
Some key points to note:
Abstracts must be submitted using the official Abstract Submission Form. Please click here to download the form.
All abstracts should be submitted via the offical congress email: capetownabstracts@epilepsycongress.org
All abstracts should be written, submitted and presented in English.
The extended submission deadline is set for: Friday 17th January 2014.
Please view the Abstract Submission Rules by clicking here.
Apply for a bursary:
In an effort to further encourage investigators to participate in the 2nd African Epilepsy Congress, Cape Town, ILAE and IBE will each award bursaries to a number of applicants to assist with travel and/or registration and/or accommodation expenses.
Members of the Bursary Sub-Committees are responsible for selecting the successful applicants.
Results will be made available in February 2014 and all successful applicants will be contacted by email.
All bursary applications will only be accepted via the official bursary submission email: capetownbursary@epilepsycongress.org
Please click here to submit a bursary application.