It was a very special moment at the close of the Presidential Symposium held during the 7th Latin American Epilepsy Congress in Quito, Ecuador on Wednesday 14th November, when IBE President Mr Mike Glynn and ILAE President Prof Nico Moshé symbolically signed the Technical Cooperation Agreement for the implementation of the Strategic Plan of Action for Epilepsy in the Latin American Region.
Attended by over 400 delegates, the symposium was addressed by Dr Patricio Abad, President of the Ecuador League Against Epilepsy, Mr Mike Glynn and Prof Nico Moshé, IBE Secretary General Dr Carlos Acevedo and ILAE Vice President Dr Marco Tulio Medina. A special guest was Dr Jorge Rodriguez from PAHO, who spoke about the aims of the Strategic Plan and PAHO's role in its implementation.
The agreement had been officially signed by Dr Mirta Roses Periago, PAHO/WHO Director, in Washington DC on 25th October.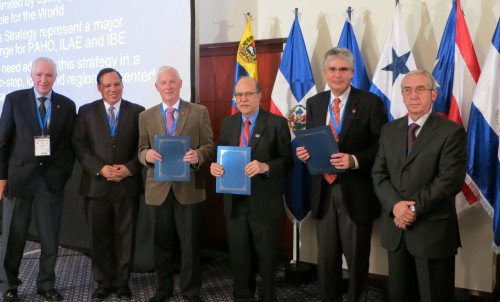 Pictured in the photo above are: Dr Carlos Acevedo, Dr Marco Tulio Medina, Mr Mike Glynn, Dr Jorge Rodriguez, Prof Nico Moshé and Dr Patricio Abad.