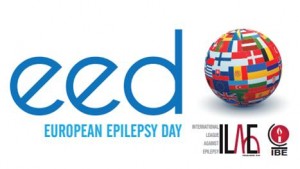 European Epilepsy Day (EED), an initiative of the Joint Task Force of the International Bureau for Epilepsy and the International League Against Epilepsy, was launched on 14 February 2011. With the plan to celebrate EED each year on the second Monday of February, which would be close to St Valentine's Day – St Valentine being the patron of epilepsy - it was a happy coincidence that this happened to be 14th February for the first EED.
On the first EED an exhibition with the theme 'The Many Faces of Epilepsy' took place at the European Parliament in Strasbourg and was hosted by Irish MEP Gay Mitchell. Representatives of epilepsy organisations from all around Europe met with a number of MEPs in the European Parliament and meetings were also arranged with the Commissioner for Research, Ms Maire Geoghegan-Quinn and the Health Commissioner – John Dali. At a special lunch in the Parliament, people with epilepsy told the 27 MEPs present of their very moving experiences of living with epilepsy.
Since 2011 EED has grown in and is celebrated across most European countries. To find out more about previous EED events, please scroll down view to reports, photographs and videos.