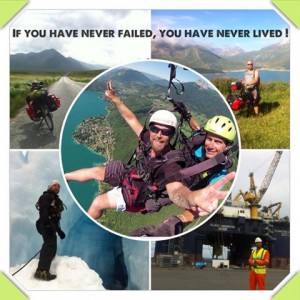 Kristoffer Ahnström, or Kee as he prefers to be known, is a young adventurer from Sweden who climbed onto his bicycle in Stockholm in the beginning of June 2013 for a journey of 4,500km that had him arriving in Rome in late August 2013.
He cycled through Norway, Scotland, England, Ireland and France and will climb a couple of mountains on his way, the highest mountain in Norway, Galdhöpiggen and Ben Nevis in UK.
Kee has had epilepsy for 27 years and had surgery at the age of 15. He still has several seizures a day, but that does not prevent him from any mental and physical challenges.
"I am usually seizure-free when biking as I eat, sleep and generally have a nice time and feel good" says Kee Ahnström.
He has a special logo "Realize your dreams", illustrated with a monkey with a medic aid on his head, perhaps to show that problems are dealt with if and when they occur, not to live with worries that they might not show up.
"My parents have always been encouraging and allowed me to do things I wanted to do, which helped me to be open and safe in my attitude. I want to send a message to all parents of children with epilepsy that they should not worry, that the children need to go their own way, and to support them in whatever direction they want to go. That is exactly what my parents did."
Equipment checked, bags safe, tent complete  (without holes) and the GPS is working he headed off. So what was the most important thing to take into account on such a long distance bike journey?
"You need to have a plan B, in case you lose your belongings or an accident happens. You need to be able to get back quickly and easily. On a long trip like this you also need to make sure the bags are waterproof. You do not want to end up wet. And of course you should not be penny-pinching when you buy your equipment, good quality costs a lot but last much longer. Behind a successful adventure there is 90% planning and 10% spontaneity!"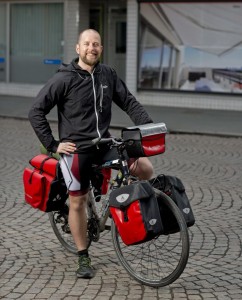 The most important items to bring along are ones passport and some money and "with a map you can go far", he says. Kee was physically well trained but he emhpasized that it does not matter how good your legs are if your back is not strong. This was not his first trip. Kee took the bike via Prague to Venice some time ago and that went fine. He wanted to show that epilepsy does not necessarily need to put limitations on life, that you have your own responsibility for a good quality of life.The main aim for this trip was to promote awareness and to raise funds for epilepsy research and Kee wanted to inspire people with epilepsy to challenge themselves to extend their limits and to think more positively in sometimes difficult moments.
"You will always get what you have got, if you do what you always have done. So try to challenge yourself!" says Kee before he checks the bags yet one more time.
Text: Susanne Lund
Photo: Daniel Roos