The 28th International Epilepsy Congress took place in Budapest, Hungary, from June 28th – July 2nd, 2009, with the following seven Main Topics:
Autonomic Functions and Biorhythmicity
Searching for a Cure – Experimental Models and Human Epilepsy
Comprehensive Care around the World
The Family and Epilepsy – Clinical and Social Dimensions
Brain Development, Plasticity and Epilepsy
Imaging Epilepsy Networks and Cortical Dysplasia
Non-Specialist Management of Epilepsy
IBE at the 28th International Epilepsy Congress
In addition to the scientific and social sessions, IBE also held its biennial General Assembly on 1st July, when the newly elected International Executive Committee began its term of office.
Several Regional Committees took the opportunity to arrange meetings to discuss past activities and future plans. In due course reports from these meetings will be available on the relevant regional pages of the site.
The CEO Group (add link) and the Editors Network (add link) also met and reports from these meetings will also be available to view.
Members Posters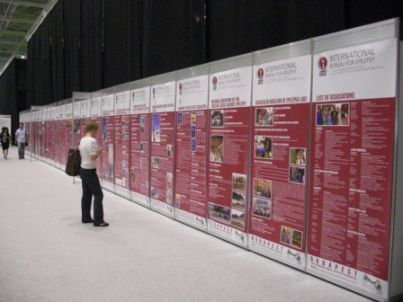 Following the successful displays in Paris and Singapore, an impressive exhibition of posters highlighting the activities and achievements of our Members was mounted during the congress.
We are grateful to Eisai, who supported this endeavour. Almost 50% of Members participated in the Poster Display and the following links will allow you to see of the posters. The posters have been sorted, alphabetically, by country. If you would like to receive an electronic copy of any poster in a higher resolution, please contact us ibedublin@eircom.net: