Nepal : Nepal Epilepsy Association
hat we have prepared the same poster in different size Flipchart (flex print for training purpose), A4 size etc for our use and distribution. Distribution is already started. The main contents of the poster are:
1. What is epilepsy
2. Treatment of Epilepsy
3. Misunderstanding about Epilepsy
4. Regular use of medicine makes people with epilepsy capable of involving in various activities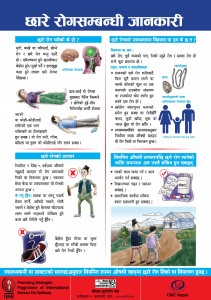 Also please note that from tomorrow a workshop/orientation about epilepsy is taking place in Dolakha district.
Nepal being very difficult in terms of topography (wide altitudinal variation from 90m to 8,848 m) and poor development of communication system due to remoteness, no electricity, no transport access, not all the people could watch the docudrama. Therefore, to make all people aware about epilepsy and its treatment, prevailing malpractices, wide dissemination of simple and illustrative posters in Nepali language would help. There are 75 districts, 58 municipalities and 3,915 village development committees in the country. Similarly, there are zonal hospitals, district hospitals and health posts and sub-health posts. NEA proposes to produce 5,000 nice poster that could explain about epilepsy, its treatment and prevailing malpractices in the country and to distribute, so that it will cover major remote parts of the country. For this, NEA estimates about 5,000 USD to design, print and distribute. But, NEA does not have enough funds for this activity as it is running through private donations which are very limited. Therefore, if IBE under promising strategies programme 2013 could provide USD 4,000, NEA will be happy to implement this activity. NEA will allocate some money from its own and seek financial support from Lions Club of Dolakha and Medicine Distributers. NEA is very optimistic that this activity/project will contribute in creating awareness about epilepsy and its treatment.
NEA is very optimistic that IBE positively considers this letter of intent and approves our proposal as NEA has successfully completed similar project in 2011.