In 2014, all across Europe, many activities and events were held to mark European Epilepsy Day 2014.
From conferences to cake baking! From educational talks to tv shows! So many varied and fascinating events - all with one major goal - to raise epilepsy awareness and to spread the message "Epilepsy is more than a medical diagnosis".
Please scroll down to view events from many countries – we will be adding more events from our members around Europe over the next few weeks, so please do come back to look!
Croatian Association For Epilepsy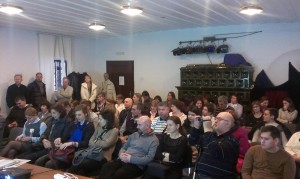 European Epilepsy Day 2014 in Croatia was organized by the Croatian Association for Epilepsy. A highly promoted open conference in Zagreb was held on 10th February 2014. This was an extremely popular event, attended by professional and the public, resulting in the venue being full to capacity.
The conference was opened by the representative of the City Department for Health, Dr. Slavko Antolić who expressed his appreciation of the work of the Association and pronounced future cooperation and support to the Association from the Department of Health.
Three presentations followed, by medical professionals dealing with epilepsy:
 INTRODUCTION AND MEANING OF EED
   Prof. Ivan Bielen, PhD, MD, President of the Croatian Association for Epilepsy
NEW POSSIBILITIES FOR EPILEPSY TREATMENT
   Prof Hrvoje Hećimović, PhD, MD
LIFE OF A FAMILY WITH A CHILD WITH EPILEPSY
   Marina Grubić, PhD, Clinical Psychologist 
The presentations were followed by an open discussion and a small banquet which provided an opportunity for the participants to share their experiences in an enjoyable atmosphere.
Attendees expressed their appreciation of the conference and further activities are now in planning.
Finnish Epilepsy Association (FEA)

Finnish Epilepsy Association (FEA) promotes the rights of PWE with the IBE EED theme epilepsy is more than seizures. The campaign takes place the whole year and all over the country.
EED 2014 was launched on the 10th of February 2014 in Helsinki, with an educational event to HR professionals of companies with a large number of employees.
Website / Electronic Postcard Campaign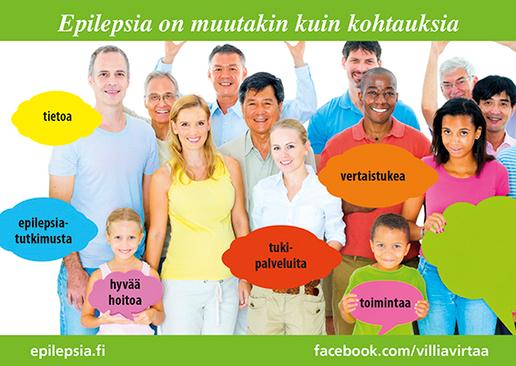 FEA launched a new website for EED 2014, in Finnish and Swedish click here to view website. On this site, there are personal stories and an electronic post card on the website. The card can be sent to decision makers with the messages like "Have courage to make good decisions". FEA launched a new website for EED 2014, in Finnish and Swedish click here to view website. On this site, there are personal stories and an electronic post card on the website.
The card can be sent to decision makers with the messages like "Have courage to make good decisions".
This EED postcard campaign was heavily promoted on the FEA Facebook page. Click here to visit the FEA Facebook  FEA sent almost 2000 emails to Finnish decision makers – made up of MEPs of the European Parliament and the Finnish Parliament, as well as member of local councils of Finnish cities and communities.
The Faces of EED 2014 in Finland
Ms Nora Klemola, Assistant of the Supreme Court and Mr Juha Karjula, Kindergarten Teacher, speak openly about how their drug resistant epilepsies have effected in their capabilities to work in their professions.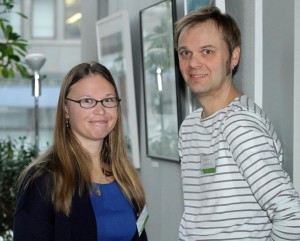 A Personal Story
Marja Suonpää has learned to appreciate herself in her early fifties. "I have been able to study and have succeeded in my work despite my epilepsy". She works as senior inspector in The Finnish Safety and Chemicals Agency.

Marja - a fighter and survivor Reflection on Epilepsy

You can read Marja's full story and many other stories, by CLICKING HERE
Public Awareness
It is planned for local chapters of FEA to hold face-to-face events at local markets and fairs at which our volunteers will inform people about the effects of epilepsy on everyday life of PWE.  There are almost 30 events planned for 2014. FEA has produced material for volunteers such as flyers, magazine, match boxes, balloons and posters. Previously in 2013 we produced tents with our logo for campaigning on the streets, which we will use again this year.
Media Publicity
The media release of EED has already been published in many Finnish medias and there is more publicity to come when our volunteers take the special media release personally to the smaller newspapers and radio stations at local level. In addition to that we have challenged our volunteers to send the electronic postcards from the campaign website to their local politicians and officials. We will "bombard" candidates of the European Parliament elections with a special message in which we "cry for" more resources to be awarded to epilepsy research. This is a joint message delivered by our FEA volunteers and the Finnish Chapter of ILAE. FEA has been active in every EED. Little by little we are learning more about how this campaign can gain a great deal of publicity. It a campaigns where our volunteers are able to participate in many ways. At the same time we communicate openly about the many sided disease that epilepsy is and make a change step by step in the attitude and knowledge of the Finnish decision makers.
Georgia
A Piece of Cake!

European Epilepsy Day has been celebrated in Georgia since its introduction in 2011. This year was no exception with a special event held at the Institute of Neurology and Neuropsychology, in Tbilisi.

Nino Gzirishvili sent IE News some great photos of a very special EED cake. She told us that the Georgia association invited a pharmacology agency, who have supported the association every year with its EED celebrations to the institute and had a special Thank You event with a cake decorated with the image of the EED 2014 poster.
Members of the agency were presented with certificates to recognise their support and this also gave the association the opportunity to talk about epilepsy in Georgia and to discuss plans for next year's European Epilepsy Day.
Hungary
| | |
| --- | --- |
| Thinking outside the box, the Hungarian Chapter of the ILAE came up with an interesting event to raise awareness about epilepsy to mark European Epilepsy Day. The event was initiated by Dr Judit Saracz, a paediatric neurologist who, unfortunately, was not able to participate in the event on the day due to illness. However, despite her illness, she had gone to great lengths to make the event as joyful as possible for people living with epilepsy. | |
A second event, organized by the Hungarian League, was a meeting with representatives at the Ministry of Public Administration and Justice, the Ministry of Human Resources, the Presidents of the Hungarian lay organizations and the executive Board of the Hungarian Chapter of ILAE.
Epilepsy Ireland

February 10th was European Epilepsy Day and and in Ireland, it was a hugely successful day for epilepsy awareness!
Epilepsy Awareness Campaign
To mark the annual occasion and raise epilepsy awareness, Epilepsy Ireland has been running a radio and press advertising campaign fronted by Ireland rugby head coach Joe Schmidt focused on seizure first-aid.
Joe also helped launch European Epilepsy Day last month and is encouraging everyone to find out more about seizures and "be a TEAM player".
T: Take care to protect the person
E: Ensure you stay with them
A: Allow the seizure to run its course (you cannot stop a seizure and in most cases it will last for a few seconds to a few minutes).
M: Move the person onto their side when the seizure is over (for tonic clonic seizures)
Seizure First-aid Survey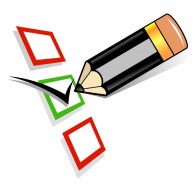 On European Epilepsy Day today, Epilepsy Ireland released results of national consumer research amongst 1000+ people conducted in January 2014. This research found that significant misunderstanding exists regarding the correct actions to take when responding to a seizure. Find out more about the findings here or see the press release.
Epilepsy in the Media
To view a list of features from national newspapers, TV and radio throughout the day in Ireland, all highlighting different aspects of epilepsy, PLEASE CLICK HERE.

SEIN

More awareness for death in epilepsy
In the Netherlands there are 80,000 people with epilepsy. On a global level it is estimated that there are 60 million people with epilepsy. Researchers at SEIN have been carrying out research for a number of years into the causes of epilepsy. One of the main themes of research at SEIN is that of sudden unexpected death in epilepsy (SUDEP). SUDEP refers to the sudden death of a person with epilepsy, where despite a thorough examinations, no cause of death can be determined. SUDEP mostly occurs in people with refractory epilepsy. To raise awareness for SUDEP the two epilepsy centres in the Netherlands, SEIN and Kempenhaeghe, together with professional associations and patient organisation have undertaken a joint initiative to produce information material and develop a register for SUDEP.
Press Releases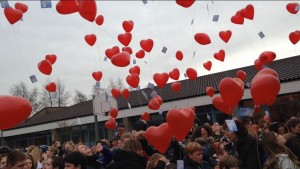 As part of EED 2014 we released two press releases: one concerning SUDEP and one concerning the heart-shaped balloon competition that the School De Waterlelie (special school for children with epilepsy) organised with regards to EED 2014 and their 75 year anniversary.
This gave the press the opportunity to pick which press release was of interest to them, and we feel this worked better (differentiating the press releases) compared to last year, when we just focused on one issue.
The SUDEP press release was picked up by national press and this appeared 23 times in national newspapers. The press release regarding the balloon competition was picked up by regional press and appeared 5 time in regional papers/radio. We are particularly pleased that the Haarlems Dagblad dedicated a two-page spread about the balloon-competition and SEIN/School De Waterlelie.
Have a Heart for Epilepsy
SUDEP is gaining more and more attention worldwide. You can help to raise awareness for epilepsy!

We prepared a special landing page for the EED 2014 on our website and we promoted this via our social media channels (Facebook and Twitter), as well as the heart-badge which could be stuck to your FB profile photograph to show that you had 'a heart for epilepsy'.
We also organised a give-away competition of 10 heart-shaped candles to promote EED 2014, to raise awareness for epilepsy and to raise awareness for our institution, SEIN. These activities were very successful.
Share 'have a heart for epilepsy' with as many people you know (family, friends, acquaintances, colleagues). Have a heart for epilepsy! Place the 'have a heart for epilepsy' badge on your Facebook profile photo. CLICK HERE