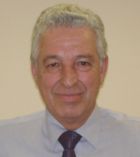 Carlos Acevedo
IE News Editor
I was delighted to accept the invitation of IBE President Susanne Lund to become Editor of the International Epilepsy News in mid-2005. The quarterly newsletter is an important voice in the work of IBE and presents to our Members, and to the world at large, a regular snap-shot of activities within IBE as well as those being carried out by our dedicated Members at national and regional level. In addition, it provides the platform on which to share information and news on issues of interest to people with epilepsy and those who care for them.
Every three months we print 3,000 copies of the latest issue and this is distributed to more than 120 countries. Our readership includes our member associations (and, in turn, their members), doctors, neurologists and epileptologists, healthcare workers, politicians, members of the UN and the WHO, as well as libraries, the pharmaceutical industry and others with an interest in IBE. In addition we also produce thousands more copies of the magazine for distribution at our regional and international congresses.
Following the relaunch of the website, previous issues of the newsletter will now be available for online viewing, making the magazine accessible to even more readers. This is an exciting new development in the life of the magazine, which was first published more than 40 years ago, in 1963, under the editorship of George Burden.
I hope you continue to enjoy reading it.
Best wishes
Carlos Acevedo
Editor