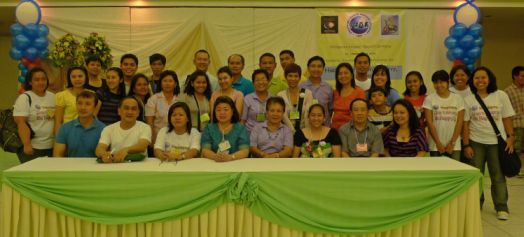 Report from the Philippines by Shunglon Lai, Vice President Western Pacific
Epilepsy Awareness & Advocacy Inc (EAAI) in the Philippines is currently funded under the IBE Promising Strategies Program in the production of a multimedia pack to educate people about epilepsy. With a DVD and accompanying materials in comic book style, the association will use its nationwide network of volunteer groups to disseminate the program throughout the Philippines.
I serve as the foreign adviser for this program so, when EAAI invited me to their National Epilepsy Symposium for Lay People 2009, I was delighted to accept. By travelling to the Philippines I was able to see how the program was functioning. I also had the opportunity to talk about the International Bureau for Epilepsy and it's relationship with the local association, in order to enhance the strong tie between IBE and the EAAI.
The EAAI in cooperation with the Philippine League Against Epilepsy (PLAE) had organized a series of activities to promote "Quality of Life in Persons with Epilepsy" during the 5th Filipino National Epilepsy Congress from September 2 to 5, 2009.
The National Epilepsy Symposium for Lay People was held on September 5, 2009 in Tacloban City, with the main theme: "Masaya Ang Buhay Kahit May Epilepsy" which translates as "Life is good – even with epilepsy". This excellent symposium allowed us to learn from the speakers about their effort to combat the disease.
The first part of the symposium focused on the effort of both EAAI and PLAE including The National Epilepsy Campaign reported by Dr Leonor Cabral-Lim and Epilepsy School Caravan reported by Dr Lourdes L Ledesma.
From the report we can understand that the situation for the Philippines is indeed unique, compared to some "developing" countries; despite their limited financial resources they have "relatively more" trained and highly qualified health professionals in the field of epilepsy. However, despite the availability of highly qualified health professionals, the following scenarios are evident:
Many people with epilepsy do not seek treatment either because they don't know that "epilepsy can be treated" or that care is available.
Some of those who seek treatment are not properly treated because of inadequate education and training of health care providers.
Some of those who get adequate treatment and are "seizure free" are afraid to come out and speak openly about their epilepsy due to fear of stigma and discrimination, not only by peers, but discrimination in school and at work, or even the fear of losing their jobs.
The Philippines has pursued the same strategy as the Global Campaign. This strategy includes two parallel and simultaneous tracks:
To raise general awareness and understanding of epilepsy.
To support the Department of Health in identifying the needs and promoting education, training, treatment, services, research and prevention nationally.
In respect of the Epilepsy School Caravan, "We focused on introducing this campaign in schools because many school-aged children with epilepsy suffer from discrimination as most people around them are not well informed about their condition," said Dr Lourdes Ledesma. "It cannot be denied that a great number of people diagnosed with epilepsy have experienced some kind of discrimination, either at school or in the workplace."
The school caravan features a reading by volunteers of PLAE's book Life is Good-Even with Epilepsy, written by Dr Lourdes Ledesma and Dr Marilyn Ortiz. As a treat to the students, there was also a special dance number to the tune of "Happilepsy," a catchy song composed especially for the school caravan.
Through the caravan, it is hoped to attract more advocates willing to help in sharing the right information about this often-misunderstood condition and, in the process, provide support for people with epilepsy.
With the right treatment and care, epilepsy patients can enjoy safe and lasting control of their seizures which will allow them to lead normal lives. Being diagnosed with epilepsy should not stand in the way of achieving one's dreams.
The second part of the symposium addressed medical issues including the following topics:
"Epilepsy Module"
Dr Bernadette Terencio
"Epilepsy: Facts and Fallacies"
Dr Maria Victoria Bael
"May Bukas Pa" (What happens next after diagnosis –There is still tomorrow, There is future)
Dr Rosario Latorre
"Super Twins" (co-morbidity of epilepsy)
Dr Hazel Paragua.
Persons with epilepsy and their caregivers can learn a great deal about epilepsy from these lectures.
The last part included my own presentation "The International Bureau for Epilepsy (IBE): what it does offer persons with epilepsy", as well as an update on the activities of the EAAI (Ngayon at Kailanman – Now and Forever) reported by EAAI President Ms Jeannie Khonghun.
A very special guest Dr Ronald Magbitang, who is 2008 Epilepsy Exemplar Awardee, talked about "Maalaala Mo Kaya" (Remember me). Launched by the PLAE and EAAI in 2003, the Epilepsy Exemplar Awards identify role models and spokespersons for persons with epilepsy. The awards are open to all Filipinos aged from eight to 65 years old who have been diagnosed with epilepsy. Dr Ronald Magbitang, who is a medical doctor, talked about his experience of being an epilepsy patients He used his own words to encourage everybody who suffers from the condition and he also serves as a very good role model in fighting the disease.
After the lay symposium, I observed the get-together meeting of people from all parts of the Philippines. The Philippine is a country made up of over 7,000 islands, making it difficult for people to travel. There are also language problems, with local dialects on many islands.
EAAI was founded in 2002 and has been developing workshops since 2003. The organization registered as a national association in 2004 and joined IBE in 2005. There are currently 18 chapters throughout the country. Each chapter presented a short report on the activities it had undertaken during the previous year. It was quite impressive to learn how active many of the chapters are in helping their members through a range of interesting activities.
The EAAI had just received the first portion of the funds allocated by IBE for their Promising Strategies project. I learned that they will use different languages to make the teaching DVD to educate people in the Philippines to better understand epilepsy.