Dr Michael Hills
ONZM, BA, MA, PhD, DipTch, AFNZPsS, MRNZS
It is with deep sadness that IBE announces the sudden passing of Dr Mike Hills.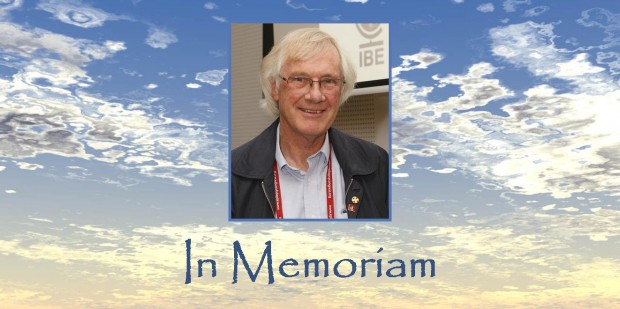 Mike was a loyal supporter of IBE since he first became involved as Secretary General on the Executive Committee in 1993. He was to remain on the committee for 12 years, serving two terms as Secretary General and a further term as Vice President.
After stepping down from the committee, Mike continued to support IBE. He was a member of the Task Force that drafted IBE's current Constitution and was a member of the Election Task Force at the time of his death.
He received the Ambassador for Epilepsy Award in 1999 and the Social Accomplishment Award in 2009. He had been nominated for the Lifetime Achievement Award this year.
In his personal career, he was an Honorary Fellow of the Department of Psychology at the University of Waikato, Hamilton, New Zealand and was awarded the New Zealand Order of Merit ONZM in 2002 for his work for people with epilepsy and in the New Zealand community.
For those who knew Mike, this is a very sad day. He was a kind man, a true gentleman and an excellent example of someone with epilepsy who lived life to the full. He will be remembered with fondness.
Our thoughts are with his wife, Marilyn and his family.
2nd May 2013


If you would like to leave a message of Condolence, we will ensure that your message is forwarded to Mike's family. We will publish received messages on the website over the next few days.

Everyone at Epilepsy Action in the United Kingdom sends condolences to Marylyn and all Mike's family. He was a great champion for people with epilepsy all over the world. The whole epilepsy community will miss his calm wisdom and caring thoughtfulness. I shall miss his loyal friendship. This is a sad time, but we will remember Mike with affection and respect and grateful thanks for all he did.
Philip Lee – United Kindgom
Receive my condolence from my own and the Mexican Chapter of IBE.
LILIA NUÑEZ OROZCO – Mexico
I was terribly saddened to hear of Mike's sudden passing, well before his time, and extend my sincere condolences to you and your family. I have known Mike since I began on the ILAE Executive Committee in 1993, and we have served together in several different capacities since, most recently as members of the IBE Election Task Force. Although I saw Mike infrequently, especially in recent years, I always considered him a close friend and confidant, who could always be relied on for his wisdom and heartfelt support. He was a tremendous resource for the epilepsy community, and we are extremely grateful for his many contributions. The fact that he had epilepsy himself made him all the more valuable to our efforts. Having met you on numerous occasions and some of your children, and noting the pleasure and pride with which he would speak of all of you, I greatly admired Mike's commitment to you and his family. I can empathize with the tremendous loss you all must feel ! at this time, having lost my wife prematurely four years ago, and can only wish you all the best in dealing with this difficult challenge. I realize that there is not much I can do from the other side of the world, but if there is anything you might ever need from me, please don't hesitate to ask.
Peter Engel – United States
I was deeply shocked at learning that Mike prematurely left us. He was a truly exceptional man, because his .relentless dedication to the cause of epilepsy and his extraordinary human qualities. His legacy and his smile will remain forever,, and will guide us in our efforts to help all those who suffer from epilepsy. Marilyn, all of us in the ILAE community are with you in this moment.
Emilio Perucca – Italy
The Colombian Chapter of IBE always recognized hum as an example. We will remember him forever.
Jaime Fandiño-Franky – Colombia
Nuestro sentido pesame por la partida del Dr. Michael Hills
Centro Nacional de Epilepsia / Ecuador
Asociacion de Paddres de Niños con Epilepsia / Ecuador
Galo Pesantez Cuesta – Ecuador
I have known Mike for a number of years, and was very sad to hear yesterday of his sudden death. Mike and I worked together on the Board of Epilepsy New Zealand and the committee of the NZLAE to improve the care of people with epilepsy in New Zealand. I was always greatly impressed by his clear thinking, energy and commitment . He has achieved an enormous amount during his life and was a wonderful advocate for people with epilepsy. He will be greatly missed.
Our thoughts go out to Marilyn and all of Mike's family.
Peter Bergin, President of NZLAE

In the name of the Uruguayan chapter of IBE, AUCLE and me, I would like to offer my condolences to Mike Hills´s family and to all the people who worked close to him.
It is a sad day to all who work for the people with epilepsy.
Sincerely yours,
Alicia Bogacz
President of AUCLE
To Marilyn and her family our thoughts and condolences.
Sincerely.
Tomas Mesa and family – Chile
My prayers for his family. He was extremely dedicated for the cause of Epilepsy and very approachable person. He is a true rolemodel for all our patients of Epilepsy. May his soul rest in peace.
Dr. Pravina Shah – India
Epilepsy South Africa extends its heartfelt condolences and sympathy to the family, friends and colleagues of Mike Hill. Mike was known around the world for his kindness, empathy and tireless efforts on behalf of people with epilepsy. We will remember his leadership abilities with fondness as a true gentleman.
Marina Clarke – South Africa
It is with deep regret and sadness that we learnt the sudden pass away of Dr. Mike Hills. During the past twelve years he has contributed a lot in making epilepsy a priority and his contribution in the epilepsy sector is thoroughly acknowledged. May he rest in peace and that his contribution in the epilepsy advancement may be served as a model for each and everyone around the world.
On behalf of all members, staff and volunteers
Youssouf Noormamode CSK
President
Edycs Epilepsy Group Mauritius
Am saddened by the death of Micheal Hills. Mike is the first person I interacted with in learning how to apply for IBE membership. He guided us well and I eventually met him at the Lisbon Conference in 2003. He was an inspiration to me in my work. Please do accept this as an expression of my condolences. May my Mike's soul rest in eternal peace.
Augustine Mugarura – Uganda
I am also sorry to hear of Mike's passing. We will never forget his unbridled enthusiasm to help people with epilepsy and fight for the cause. The ILAE salutes his achievements and will, together with IBE, his home base, will continue to work to better the life of people with epilepsy and follow his shining example: not to give up but stand up for epilepsy
Best regards
Nico
Solomon L.  Moshé, M.D.
President, International League Against Epilepsy
This is a dreadful tragedy especially for Marilyn and his family. Mike was at all the IBE meetings that I was first involved in almost twenty years ago and ever since. It seems almost unthinkable that he will no longer be involved in the epilepsy world but he leaves a wonderful legacy and was himself a great example to all people with epilepsy of someone who would not allow his epilepsy to get in his way. Apart from his great work in the epilepsy field, Mike was a renowned academic and psychologist.
As you know, Epilepsy Ireland recently had Joe Schmidt, the renowned rugby coach, speak on TV about his son's epilepsy. Apart from epilepsy, the other thing Mike and I had in common was a huge love of rugby. I was looking forward to putting him in touch with Joe, his fellow New Zealander but this cannot ever happen now.
Mike Glynn, President IBE – Ireland
It was indeed very sad to know that Mike Hill is no more.
He was a gentleman to his finger tips and carried out the duties in IBE with exemplary sense of commitment. I knew him in the past two decades and when ever we met in conferences, his concern for epilepsy was much in evidence.
In many of such meetings I met Marilyn too and my heartfelt condolences go to her in this moment of her bereavement.
With much sympathies
Vinod Saxena, India
"The ultimate goal of all workers in the epilepsy field is to improve the quality of life of people with epilepsy and their families," started Michael his contribution to our book about Comprehensive Care for People with Epilepsy. His wit and his enthusiasm were poured into this goal. He was always alert and willing to discuss the necessity of political changes in the community in order to improve the situation. One thinks there is enough time to continue discussions during the next congress or even to meet someday in New Zealand. Suddenly, there is no more time left, a gap without a bridge.
My thoughts and compassion go to his family. Thank you for sharing Michael with us.
Margarete Pfaefflin – Epilepsy Center Bethel, Germany
In behave of the Colombian Chapter, we send a deep and sad greeting to the IBE but very specially to Michael's familly . We will keep in mind his extraordinary dedication and service to the whole humanity that justified his entire life.
Jaime Fandiño-Franky, Executive Director FIRE, Cartagena- Colombia
I had to let this news sink in before I could respond to this sad message.  It came as a shock. I echo the words of all who responded. Mike was a wise and thoughtful man, who stood for his opinions and ideals. In his own way, he had given his epilepsy a place in his life for which we can only admire him. He did live life to the full and tried to inspire all around him to do the same.
Most of all I will remember his kindness. Heated arguments might have taken place , but that would not change the way he approached people later. I could go on, but basically it comes down to a few words, we will miss Mike, the entire epilepsy world will miss Mike…………. I wish Marilyn the strength she may need in these difficult times.
Hanneke de Boer – Netherlands
Thank you for giving so much of your great skill, your time and your passion to this important social and medical frontier. For many years ahead so many people who counted you as a fine leader and a terrific human being will remember you with deep affection and gratitude. My heartfelt condolences to your family and close friends.
Russell Pollard, Melbourne, Australia.
It is with great sadness to learn of the passing of Dr. Mike Hills, a dedicated supporter of IBE activities the world over.  The condolences of the Ghana Epilepsy Association and mine go the family and loved ones left behind. May his sould rest in perfect peace of his maker.
Paul Ayisu – Ghana
It is of great sadness to learn of the death of Mike Hills, one of representative people with epilepsy, who achieved so muchin his personal special field of psychology career and who helped many countries setting up the Association. Mike helped us to set up Asian-Oceanian Epilepsy Association in 2001 and guided me to serve in IBE as Vice President 2001-2005. I take him as one of my elder brothers.  I repeat Ann's sentence that "He was a kind man, a true gentleman and an excellent example of someone with epilepsy who lived life to the full." I will miss him a lot.  All colleagues and members of Taiwan Epilepsy Association remember him very well and would like to express our appreciation to Mike Hills although we cannot attend the Funeral.
Best Regards, Marshal Mo-Song Hsih, M.D. Previous Vice President, IBE
It's so sad to hear the news about Mike's. For these years, he is my teacher for handling the work for the IBE Western-Pacific region and my role model of the life. I nominated him for the life achievement award in this year because he fight for the epilepsy not only himself he also stood up for so many persons with epilepsy. He achieved great success in his own field of work and did more to help other people.
Shunglon Lai, (Taiwan) – Vice President Western Pacific
Message: Condolences to Marilyn and family. Mike will be a sad loss in a community which he has given his dedicated service to. May we all strive to be as passionate in our efforts to bring awareness about epilepsy and may he rest comfortably in the knowledge that he has made a huge difference. God Bless you and Keep you, Mike respectfully
Sandra Billing
I am a secretary of Tanzania epilepsy association I received a sad information on the death of our beloved Dr MIKE HILL the one we working together for the benefit of our people living with epilepsy.I send my condolence massage to his family and all people working with epilepsy activities. God rest him in peace.
JOHN CHIWATA
So saddened to hear of Mike's passing. I first met Mike in 1995 and always enjoyed catching up with him at conferences for an update on his work and family. I admired him and his personal commitment to the epilepsy movement both in NZ and internationally. He was, as they say, a gentleman and a scholar, and was always generous in sharing his work. I shall miss him. Please pass on my condolences to Marylyn and his family.
All of us at EFV are saddened to hear the news of Mike's death. His work on behalf of people living with epilepsy was outstanding. Mike was always warm and generous towards us. Please pass our condolences on to his family.
Regards Graeme Shears Chief Executive Officer – Epilepsy Foundation of Victoria
Epilepsy New Zealand is deeply saddened and shocked that our friend, colleague, board member, life member, and loyal supporter, Dr Mike Hills, passed away so suddenly. Mike was instrumental in shaping New Zealand's provision of epilepsy information and support services, and in the development of the Field Officer service at Epilepsy New Zealand. His expertise and dedication toward the provision of care and support for people with epilepsy made him invaluable not only in New Zealand, but also to the international epilepsy community. He was a mentor to us all, always making himself available to listen and advise where he could. Recently I had the privilege to work with Mike on an IBE project, and the new improvements to the service delivery programme, both areas Mike was very passionate about. Mike was his normal self; ever enthusiastic about what our organisation was achieving, and ensuring he kept my feet firmly on the ground. Mike will be greatly missed by his friends here in New Zealand, and has left a void that cannot be replaced. Our best wishes and deepest sympathies go to his wife Marylyn, their children and their grandchildren.
Frank Gouveia Chief Executive – Epilepsy New Zealand Vice Chair – IBE Western Pacific Regional Executive Committee
I am deeply saddened to hear about the sudden demise of Mr Mike HILLS. I had the honor to know him and had the greatest respect for him. I know it is a great loss for his family in particular and the International epilepsy community. I had spent some memorable time discussing with him during the IEC Lisbon 2003 and will truly miss him. He was friendly, understanding, courageous and serious in its efforts for epilepsy. I hope you all, his family members, will rely on each other to get through this. You and his family are in my prayers.
With Deepest Sympathy and Sincere Condolences,
Mr. CHAHIDI ABDERRAHMANE DCFP, MRrici
I am sorry to hear this news. I always enjoyed his presentations on Epilepsy and you could feel the passion he had for helping people with epilepsy.
Regards Jenny Herbison Field Officer – Epilepsy New Zealand Hawkes Bay Branch
I am very sorry to learn about the death of Mike Hills, but thank you so much for passing on this message. The Rotorua Eastern BOP Branch acknowledges his significant contribution to Epilepsy NZ and sends its condolences out to his wife and family.
Kind regards Marjo Tenhagen Field Officer – Epilepsy New Zealand Rotorua/Eastern Bay of Plenty Branch
Sorry to learn of Mike Hills sudden passing. Certainly a stalwart of considerable note and has contributed in many meaningful ways to the Epilepsy Association in its widest aspect. A privilege to have been associated with Mike over the past 20 + years. My condolences to his family and to the wider 'family' he would see through Epilepsy NZ.
Regards Vaughan Crimmins
On behalf of everyone at Epilepsy Connections I extend sincere condolences to Marilyn and the family on the loss of a kind and gentle man. Although we're thousands of miles away here in Scotland, we benefited from Mike's support, encouragement and wise words over the years and will remember him with respect, appreciation and affection. 
Shirley Maxwell 
My deepest sympathies to Dr. Michael Hills family and to those who have had the pleasure of working alongside of him.
Kindest regards Amie Jane Ambassador – Epilepsy New Zealand
I've met Mike Hills and his wife years ago, and I'm very sad to hear that he passed away. I just want to tell his Family that they are not alone in this sad Moment and that the whole Austrian Epilepsy Association – as well as whole epilepsy community – will always remember him!
Michael Alexa – Austria
I know him for long time. For me he was a father figure. His dedication, devotion , honesty and working capacity always make me amaized. In any international epilepsy conference i attended, i always looked for him. His smile and talks always make me amaized. He will be missed very strongly.
Dr. Muzharul Mannan
In the name of the Cameroonian League Against Epilepsy, I will like to send my condolences to the family of Dr Michael HILLS and to all those who worked with him. We will pray foe his family. May his soul rest in perfect peace.
Callixte KUATE, Secretary General, Cameroonian League Against Epilepsy (CLAE).
I am deeply saddened for this fateful news about Mike Hills death, Ex IBE Secretary General.It strongly hurt me, because when I began at the IBE international route in 1989, Mike, through many talks, helped me to understand how IBE worked and also gave me advices many times when I had to face situations where I had my doubts and his suggestions were always wise and opportune. I think that he still had much to give and surely more awards to receive. We will miss him a lot and I agree with Mike Glynn suggestion that someone who represents IBE International Executive Committee can be present and give institutional condolences to his widow and relatives.
Carlos Acevedo, Secretary General IBE – Chile
Epilepsy Association of Zambia is deeply saddened at the death of Dr. Mike Hills. We remember him with the encouraging words on fundraising and getting organized. A great loss to the epilepsy movement. May the God of all comfort be with the bereaved family!
Betty Barbara Nsachilwa – Zambia
On behalf of the Board and members of the Jamaican Epilepsy Association, I would like to offer my heartfelt condolences and sympathy to the family, friends and colleagues of Mike Hill. He was known around the world for his tireless efforts on behalf of people with epilepsy. We will remember his great leadership abilities.
Joy McHugh, Executive Director – Kingston, Jamaica
My sincere condolences to Mike's family. This is a terrible loss of a compassionate, dedicated genuinely caring man. It will be a shock to all of us who have been around for a while to hear this devastating news.
Jackie Archer, Field Officer – Epilepsy New Zealand Nelson/Marlborough Branch
It is sad to hear the news of Mike. I got ample opportunities to work with and learn from Mike when I served on the International Executive Committee in 2004-2009 as Vice President of IBE (South East Asia region). He had been a wonder teacher to me, providing me much insight , advice and guidance. He had demonstrated a very successful model of a person with epilepsy with distinguished achievement in different areas of life. His impact on the lives of others is remarkable. Mike and Marylyn had visited Hong Kong some years ago. They had a wonderful time with members of the Hong Kong Epilepsy Association with fun, friendship and encouragement. We wish Mike rest in peace. May Marylyn be embraced with sweet memories, warmth and love all around.
Anchor Hung, Centre on Research and Advocacy, The Hong Kong Society for Rehabilitation
It was with deep sadness that I learned of the death of your husband, Mike Hills. It is always a terrible shock when someone close to us passes on. Mike had strongly believed and supported the cause for epilepsy all these years. He was loved by many of us here in Epilepsy Care Group in Singapore, and will be missed by all. I remember putting up at your residence during a conference in NZ in August 2005, and how I enjoyed the cool walks with him along the river, near your home. And also, the time when he paid us a visit during a conference in Singapore in July 2007. On behalf of persons with epilepsy in Singapore, I wish to express my heartfelt sympathy and the hope that the kind words of your loved ones, friends and Epilepsy NZ, will make this difficult time a bit easier to bear.
Warmest regards, Sherman Goh, Executive Director – Epilepsy Care Group (Singapore)
It was with great sadness that Richard and I learned of Mike's passing. Having known him since we first met in Oslo at the time of the congress in 1993, when Mike first sat on the IBE Executive Committee, we came to know him as a true gentleman with a dedicated commitment to the epilepsy field and with a kind heart ever ready to help others. Over the years, while we only had the opportunity to meet at executive meetings and congresses, there was also written communication which showed Mike's great diplomatic, and pragmatic, flair. He was always a great door to knock on when any delicate issue arose that required a sensitive and fair response – and he never disappointed.
We are so pleased that IBE had occasion to commend Mike's dedication with the Ambassador Award and later the Social Accomplishment Award in Budapest in 2009.
In recent years I had the pleasure of working with Mike when he was part of the group that drafted IBE's current Constitution and, up to recent months, he was also a pillar of strength on the Election Task Force.
Richard and I can only imagine how devastated you will be at this moment. His like will never be seen again and we hope that all of the wonderful memories you have of a life fully lived and with great adventure, will help you survive the pain of his parting. We send you and the rest of the family our deepest sympathies.
With kind regards, Ann Little, Executive Director – IBE 
The epilepsy community needs more champions like Mike Hills.  He was a real advocate for our community. Mike made a significant contribution to the objectives of IBE and ILAE. In his role as Secretary General of IBE he understood the constitution and the rules of good governance and could be relied upon to interpret the constitution with insightful observations when some hard decisions were being considered. I was very fortunate to have Mike as Secretary General during my tenure of office as President of IBE. I sought his advice in many situations with early morning calls from Ireland and some late evenings for Mike in NZ. Without fail, he gave his views with eagerness and enthusiasm. His dedication to every task presented to him was carried out diligently.
I pray that God will grant Marylyn and all of the family consolation during their time of tribulation but they can be comforted in the knowledge that their grief is shared by the many people who were privileged to have known Mike and whose lives were enriched for having him as one of their friends.
May he rest in peace.
Richard Holmes, Past President and International Directory of Meetings. 
We, the members of Nepal Epilepsy Association are very much saddened with the demise of active social worker Dr. Michael Hills. We will be missing him very much. We take this opportunity to thank all his family members for supporting him in doing very best thing in the field of Epilepsy. Our sincere condolences to all his family members. 
Kabindra Man Pradhan, Nepal Epilepsy Association
I convey my sincere condolences to Marylyn and her family.
The Board of the Epilepsy Association of South Australia and the Northern Territory Inc. also convey their condolences.
Mike was a great man and it was an honor to know him and work with him.
Robert Cole – Australia
It is with great sadness to learn of the passing of Dr. Mike Hills, a dedicated supporter of IBE activities the world over. The condolences of the Ghana Epilepsy Association and mine go the family and loved ones left behind. May his sould rest in perfect peace of his maker.
Paul Ayisu – Ghana
I met Mike several times during International Epilepsy Congresses. He was a gentleman, always smiling. He was curious about Africa and developing countries, wondering how he and IBE could support and help.
In the name of the ILAE Commission on African Affairs, I share our condolences with Marilyn and his family and also with IBE.
May God bless him
Pr Amadou Gallo DIOP, Dakar, SENEGAL – Chair of ILAE African Commission
W imieniu Zarządu Głównego Polskiego Stowarzyszenia Ludzi Cierpiących na Padaczkę tą drogą składamy Pani Marylyn i całej rodzinie serdeczne kondolencje i wyrazy współczucia z powodu śmierci
Pana Dr Michael Hills
Z dalekiej Polski łączymy się w bólu i smutku z rodziną i przyjaciółmi.Pozostanie w naszej pamięci.
Z kondolencjami z Polski:
Mr. Tadeusz /Thaddeus/ Zarebski – President of the Polish Association for People Suffering from Epilepsy – Poland.
The German Epilepsy Association IfA in Cologne is deeply saddened at the death of Mike.
He was a very good advocate. In many of such meetings I met him. Years ago he visited Germany and Cologne. A piece of us is gone.
My sincere condolences to Mike's family.
Thomas Porschen – IfA Cologne
Gravesend Epielpsy Network memebers would like to express our deepest sympathy to all of Mike's family and friends. The world of epilepsy is a sadder place for his passing.
Fred Savill – United Kingdom
A deep heartiest condolences are extended all family members of Mike . Epilepsy is a miserable situation and a one who is working for cause is always a great one. This is a big loss . his soul may remain in peace.
Dr.Shahnawaz M.K Dal, Central General Secretary – Pakistan Epilepsy Foundation
Marilyn, It is with a heavy heart that we at Community Development and Epilepsy Foundation in Cameroon learnt about the passing into glory of your husband and colleague-Dr.Mike Hill and we also understand that he was quite instrumental in the fight against epilepsy in the world.This is a great lost of a library.To this effect receive from us here in Cameroon our heartfelt condolences.We regret very deeply this lost.All of us loved him and GOD loved him most.Therefore,my sister be hopeful for one day we shall see him face to face. We will continue to pray for you as GOD will give you the power to carter for the family which he has left behind.May God guide, protect and direct you. AMEN
Nsom kenneth Ninying – Cameroon
With great sorrow we got the message of the passing of our friend Mike. The epilepsy community lost a shining example of dedication and personal commitment. Since I had met Mike for the first time many, many years ago he always was a good friend, reliable, and independent. Our sincere condolences go to Marilyn and Mike's family.
Christoph Pachlatko – Swiss Epilepsy Foundation
Epilepsy Namibia wishes to convey their sympathy to the family of Mike Hills. The people with epilepsy in Namibia find an outstanding example of living life to the fullest with epilepsy in Mike Hills. Although he is no longer from this world, he left us with hope and guidance for the future.
Harmiena Riphagen – Epilepsy Namibia
We would like to send our deepest condolences for the sudden disappearing of Dr. Mike Hills. There are very few who truly dedicate their lives facing epilepsy and supporting the relatives of those who suffer with the same disease. For that, for being the great man he was, we, parents, relatives and friends of people with epilepsy in Portugal, would like to address Dr. Mike our gratitude and may he rest in peace. Our thoughts are now with his wife and family. On behalf of EPI Portugal.
 Cristina Stuiver – EPI, Portugal
The Epilepsy Association ACT will remember Michael Hills with fondness.
Jacinta Cummins, Epilepsy Association ACT – Australia
The Joint Epilepsy Council of Australia sends its sincere condolences at the passing of Mike Hills. Mike's contribution to the international awareness of epilepsy through his academic research and his commitment to the work of the International Bureau for Epilepsy was inspiring, ensuring a lasting legacy.
Joint Epilepsy Council of Australia
Epilepsy Australia joins with the international epilepsy community, in offering its deepest sympathy at the sudden passing of Mike. He will long be remembered as a pioneer in psychosocial research in epilepsy, and for his work with the International Bureau for Epilepsy. We considered Mike a great friend, and he will be sorely missed.
Denise Chapman – Australia
Our thoughts are with you at this difficult time. Mike achieved so much for epilepsy during his lifetime – our heartfelt thanks. He will be sadly missed.
Helen Whitehead, CEO Epilepsy Queensland – Australia
We are deeply sorry to hear the sudden pass away of Dr. Mike Hills. We will remember him as very good person and someone who made a great contribution in favor of people with epilepsy. We send our condolence and prayers to his family.
Dr. Tomás Mesa, President
Dr. Jorge Förster, Vice-President
Mrs. Luz Madrid, Secretary
National Association of Chilean Leagues against Epilepsy (ANLICHE)