Faith in yourself and your dreams…
Ivan's diversions of choice became the keyboard, hippotherapy and horseback riding. Vanya has been taking keyboard lessons with a tutor for more than two years, and attending hippotherapy for a little over a year. For us, hippotherapy was initially simply a therapy on horseback. Some people may think that hippotherapy is yet another amusing pastime, but as you will see, this is not always the case.
But as we were going through the course, we made the positive discovery that our convulsive muscle contractions immediately following the seizures became less painful.
It's only through careful time management that Ivan is able to continue attending regular grade school, take keyboard lessons, undergo hippotherapy and go swimming at the pool, which together improve both the main diagnosis and the associated conditions.  By properly selecting treatment  for the diagnoses as well as by regularly administering the prescribed medications and providing therapy catering to the specific child's needs, this leads to more effective treatment, which is what is required for improvement.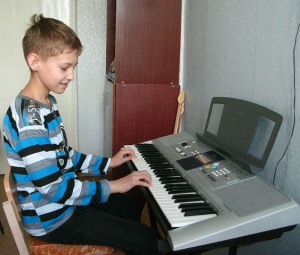 Photo: Keyboard lesson
Thanks to the non-profit association "SVS NEVRO", which runs the V. M. Savinov laboratories for studying convulsive epilepsy and conducts family monitoring, run by physician S.V. Savinov, which provides constant monitoring and treatment for Vanya, we can use the diagnostics to figure out what therapies to use next.
Over the whole course of treatment, we faced only two problems that we had to solve on our own. These were the fact that the subsidized drugs were repeatedly out of stock through to the end of the year (the sickness requires that the medications be taken regularly) and that our main medicine (which is taken in capsule form and provides a therapeutic effect) was not available and we were provided with a replacement (pills that were ineffective).
One of the results of the work done by the equestrian coaches was a Children's Para-Equestrian Competition among children with limited physical abilities and those with impaired intellectual faculties held on 31 August 2013 in Vinnoye village in the East Kazakhstan Oblast. The children had such a wide variety of diagnoses, but were all equally driven to win.
Ivan was awarded two first place prizes at the equestrian competition for children with disabilities:
1) CI Division (Walk, Freestyle) in the Working Trot Event;
2) CI Division (Walk, Freestyle) Dzhimkhana Pole Bending".
Not wanting to stop here, but instead we aim to achieve our dream by claiming victory for our country. The Special Olympics are a special event for children with a compromised intellect. We, however, have faith in our dream of taking part in the Children's Paralympic Games, which are for children whose intellect is intact. And we have faith in those who would help us achieve our dream.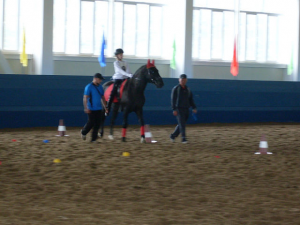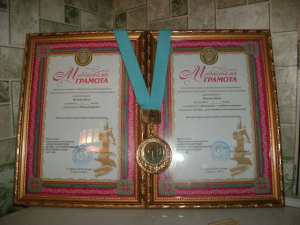 Medal and two awards for first place
Conclusion on the results of the completion of the hippotherapy rehabilitation course
Ivan Naumik, birth year 1999, with a diagnosis of residual organ encephalopathy, internal (minor) hydrocephaly, epilepsy (focal and generalized), with concurrent conditions; weak myopia, simple astigmatism, early form of optic nerve atrophy, bilateral hardness of hearing, second degree longitudinal flat foot, the left leg shorter than the other by 1.5 cm; Level 1 compensatory scoliosis of the lower thoracic spine; deformation of the rib cage – cariniform, and belonging to the Childhood Disability Group, has completed a rehabilitation course of lessons using the hippotherapy method, organized by the non-profit association 'AQ TAI SUPPORT FUND FOR CHILDREN WITH DISABILITIES' based at the equestrian complex at PKF TITAN LLP, over a period from 1 June 2012 through 31 August 2013.
As a result of the completed course: At the first stage (during the hippotherapy sessions themselves) substantial changes occurred in the child's physical condition: joint mobility and coordination improved, and muscle strength increased. Vanya's ability to bear physical and mental loads improved as well. Beginning in September the lessons started to include horseback riding skills training. His social circle grew substantially, which had a positive effect on his people-meeting and rapport-building skills. Vanya became more liberated emotionally speaking, he became less self-conscious and his self-esteem grew.
During the sessions, an exercise was used for improving overall muscle tone, building the pectoral swing, for developing motor coordination, reducing the pain caused by convulsive muscle spasms, restoring metabolism and improving blood flow.
'AQ TAI SUPPORT FUND FOR CHILDREN WITH DISABILITIES'
Chairman of the Non-Profit Association B.T. Soltanova
Hippotherapeutic Instructor Ye.A. Chernikova
Hippotherapeutic Psychologists Ye.A. Rudenko
LVE Instructor K.I. Krivitski