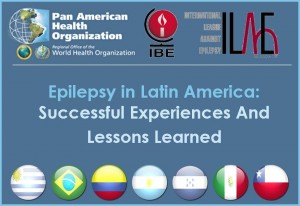 A Regional Workshop of Epilepsy, related to the Strategy and Plan of Action on Epilepsy was held in the city of Santiago, Chile, on August 9th and 10th, 2013, for which invitation was exclusively for professionals of the area. The workshop was organized by the Chilean League against Epilepsy in coordination with PAHO, the Latin American Regional Committee of ILAE and IBE and with the sponsorship of the Ministry of Health of Chile.  
The workshop was attended by ILAE, IBE and Ministries of Health representatives of six countries: Uruguay, Argentina, Honduras, Mexico, Brazil and Colombia and as guests the Treasurer of ILAE International Committee, Dr. Samuel Wiebe and the President of ILAE North American Commission, Dr. Sherly Haut.
The workshop's objective was to show innovative and successful experiences:
Discuss successful experiences and learned lessons of selected Latin America countries, stressing primary care.
Contribute to the Strategy and Plan of Action of Epilepsy in Latin America, establishing priorities for specific actions.
To view the presentations – please click on the links or images below.
BRAINSTORM E-JAGUAR
Camila Delmondes
Patrícia Tambourgi
Li Li Min
EXPERIENCIA DE HONDURAS: CREACIÓN DE UNA BASE DE DATOS EPIDEMIOLÓGICOS
Prof. Lazaro Molina
Prof. Marco T Medina
Universidad Nacional Autonoma de Honduras
GLOBAL PERSPECTIVE ON EPILEPSY: IMPROVING ACCESS TO EPILEPSY CARE
Tarun Dua
INFORME SOBRE EPILEPSIA
América Latina y el Caribe
DESAFIOS Y OPORTUNIDADES
Dr. Marco T Medina
Dr. Jorge Rodriguez
Dr. Carlos Acevedo
TALLER : EPILEPSIA EN LATINOAMÉRICA
EXPERIENCIAS EXITOSAS Y LECCIONES APRENDIDAS
Dr. Alejandro de Marinis P.
Liga Chilena contra la Epilepsia.

PROGRAMA NACIONAL PARA LA EPILEPSIA EN CHILE EXPERIENCIA EN NIÑOS TALLER EPILEPSIA EN LATINOAMÉRICA
Dra. Lilian Cuadra
Grupo de Epilepsia
Ministerio de Salud

EXPERIENCIA DEL PROGRAMA PRIORITARIO DE EPILEPSIA EN MÉXICO
Dr. Francisco Rubio-Donnadieu, México

FIRST PHASE REPORT OF THE DEMONSTRATIVE HONDURAS TREATMENT GAP PROJECT
Prof. Marco T Medina
Dr. Lazaro Molina
Dr Medardo Lara
TALLER- EPILEPSIAS EN LATINOAMÉRICA:
EXPERIENCIAS EXITOSAS Y LECCIONES APRENDIDAS.
Dra. Patricia Braga
Liga Uruguaya Contra la Epilepsia (L.U.C.E.)
RECONOCIMIENTO
PLAN ESTRATÉGICO PAHO
Dr Carlos Acevedo
Dr Marco Medina
Dr Jorge Rodríguez
CENTRO DE NEUROCIENCIAS CLÍNICAS Y
APLICADAS
EPILEPSIA, COGNICIÓN Y CONDUCTA
Prof. Dra Silvia Kochen
GUÍAS DE EPILEPSIA EN CHILE
Dr. Tomás Mesa
Taller PAHO

EPILEPSIA EN LATINOAMÉRICA: EXPERIENCIAS EXITOSAS Y LECCIONES APRENDIDAS"
Prof. Jaime Fandiño-Franky