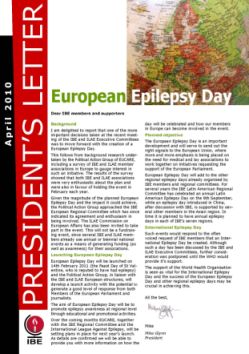 Welcome to the IBE Website!
As an international organisation that serves to develop, support and link national epilepsy organisations around the world, IBE exists to improve the quality of life of all people with epilepsy and their families and carers.
IBE's primary purpose is not itself to provide specific advice and information about epilepsy and this site does not try to do this. This is a role and function of our many Members and Associate Members around the world – national Epilepsy Associations and Centres. These organisations are all listed on this site, many with direct links.
IBE is however an increasingly important advocacy group, campaigning for improvements and developments in epilepsy care and services worldwide by raising awareness of epilepsy and influencing opinion leaders and policy makers. You will find details of this and all our other work on this site.
The focus of IBE is on the social aspects of epilepsy and we very much hope you find what you are looking for on our Website.
Please do contact us to give us any views you may have about our site and how you think we can make it better.
Mike Glynn, President