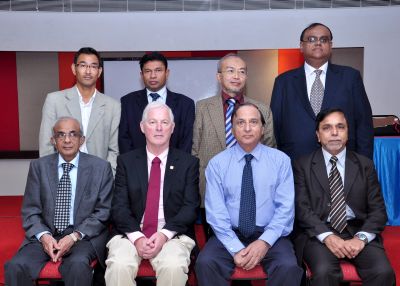 Back row left to right: Mr Kabindra Man Pradhan, Nepal; Dr HT Wikhrammasinghe, Sri Lanka; Dr Achdiat Agoes Djamil, Indonesia; Dr. M. Mannan, Bangladesh & IBE Vice-Chair South East Asia
Front row left to right: Dr HV Srinivas, IBE Chair South East Asia; Mr. Mike Glynn, IBE President; Dr. Vinod Saxena, IBE Vice President South East Asia; Dr. MM Mehndiratta, India & IBE Secretary South East Asia
On the occasion of Golden Jubilee celebration of IBE and completion of 40 years of IEA, a Satellite meeting of IBE was organized inviting South East Asians Regional Executive Committee Members. Out of the seven member countries five of them attended ( Bangladesh, Indonesia, India, Nepal, Srilanka) –Dr Araya from Thailand expressed his inability to attend the meeting. There was no response from Hongkong.
The programme started with the inauguration. Dr B Rajendran, Chairman ECON 2012 welcomed the chief guest Mr. Mike Glynn President of IBE and other participants of the programme. This was followed by the traditional "Lighting of the Lamp" which symbolized dispelling the darkness and ignorance related to epilepsy and bringing in the light and knowledge.
Dr. H V Srinivas Chair SEAREC & President IEA in his inaugural remarks mentioned the role of South East Asian Region and its members countries to meet the objectives of IBE. Dr V S Saxena, Vice President IBE in his address elaborated the role of various organization including IEA. This was followed by an address by the Chief Guest Mr. Mike Gylnn President IBE.
Mike Glynn – In his talk elaborated the formation of IBE and its progress over the last five decades. He said the IBE was formed in Rome in 1961 and the Golden Jubilee celebrations is being held in Rome in the last week of August 2011, which has slated many special events. He emphasized the role of lay people in the organization which is of key importance . The IBE has 126 members in 93 countries world wide, with seven regional committees . There is a proposal from China for International Epilepsy Day on 28th June. Very recently the European Epilepsy day was launched on 14th of February 2011 and there are different epilepsy awareness days in many countries. He highlighted several programmes the IBE has been undertaking which includes Global Campaign Against Epilepsy (GCAE) in collaboration with ILAE & WHO;;Advocacy regarding health, employment, education, driving, legislation and social activities for person with epilepsy,Intervention for epilepsy through WHO Gap action programme; Promising strategies programme which include current projects in India, Nepal and Bangladesh,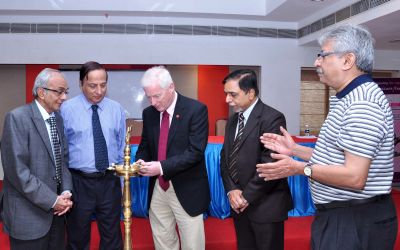 Inaguration of the meeting by 'Lighting the Lamp' by Mike Glynn, IBE President
The Inaugural session concluded with vote of thanks by Dr.M.Mehndiratta, Vice Chair, SEAREC and Secretary Gen IEA.
Kabindra Man Pradhan (Secretary General – Nepal Epilepsy Association)
A Civil engineer by profession has taken intense interest in the Association .Epilepsy is a common neurological diseases but the communicable diseases is still highly prevalent in this land locked country. As is common else where, social stigma, treatment with witch doctor, smelling of the old shoes and socks to abort an attack are still prevalent. Nepal Epilepsy Association is a Non Governmental Organisation founded in 1986, which provides holistic care to persons with epilepsy and also public education to increase awareness in the society through booklets articles, health education and awareness programmes. The Association runs weekly epilepsy clinics providing subsidized / free medicines, counselling in epilepsy centers and camps, provides health education to villagers and illiterate people about prevention and management of epilepsy. The Nepal Epilepsy Association has several partner organizations viz Korean Epilepsy Association (KEA) 1986 -1994. Phect-Nepal, Kathmandu Model Hospital, Family Academia, Korea, Lions Club of Dolakha, Lions Club of Swandorf, Germany, Ewha Womens University, South Korea, Yeungnam University, South Korea. Further plans include establishment of two more epilepsy centers, free epilepsy camps, plans to have international standard epilepsy center in Kathmandu. A tele documentary film on epilepsy is being produced with the financial assistance from IBE Promising Strategies Programme
Dr. Wickramasinghe – (President – Epilepsy Association of Srilanka- EASL)
The basic health care for persons with epilepsy in Srilanka is quite adequate, with free investigations and treatment. EASL was founded in 1989 and Prof Nimal Senanayake and Mr Hemal Pereis were the founding members who worked with great enthusiasm. The association had a news letter and a good number of members who were actively participating. Unfortunately, for various reasons the Association is not functioning for over a decade now. This year we have decided to revive the Association and we have tried various methods to improve the membership. This include a dedicated phone line, distribution of membership application form in major hospitals publication of epilepsy related information in news papers with a request to the reader to join the Association. However the response so far has not been very encouraging. We have decided to pursue our efforts and hope to revive it to its old glory.
Dr. Muzharul Mannan, (Secretary General – Bangladesh Epilepsy Association)
Bangladesh has about 125 million population with less than 150 neurologists. In his epidemiological study he observed that epilepsy is a common health problem with superstition stigma still prevalent. 30 -40percent are treated by traditional healer and 50-60 percent remains seizure free with four primary antiepileptic drugs. However the most common cause for non compliance is cost of drugs. The Association was started in 1992 and got affiliated to IBE in 2005. The goals of the Association include increased social acceptability . The Association runs weekly free medical clinics, quarterly awareness programmes and half yearly training programmes for care givers and health professionals. For medical doctors a training programme is conducted once a year and epilepsy teaching course once in two years. Students with epilepsy are encouraged to give talks regarding their experiences to other school children, to dispel the fears and create awareness. With the help of IBE a documentary film is being produced for public education.
Achdiat Agoes Indonesia ( Board of advisor & Past President Indonesian Epilepsy Association)
Indonesia is a conglomerate of 13 thousand islands with a population of 227 millions and established 2 million people with epilepsy. Stigma attached to epilepsy is prevalent as in other neighbouring countries. The organization has 17 chapters spread all over the country. The Association aims to improve awareness and provide public education to dispel the myths and fears about epilepsy. This is done through seminars and outbound activities. The Indonesian Epilepsy Association is concentrating on four aspecpts- promotion, prevention, treatment & rehabilitation for persons with epilepsy. The management is primarily at the level of Primary Health Care Centers.
Dr MM Mehndiratta( Secretary General – Indian Epilepsy Association Central Office)
Indian Epilepsy Association was established in 1970, and presently has 28 chapters with more than 2000 members (Medical, Non- Medical and people with epilepsy). Activities for Persons with Epilepsy (PWE) are carried out by various chapters of IEA, which include Counseling, monthly camps, diagnosis & free drug distribution, subsidized medicines, essay, painting & quiz competitions, special education & support groups, sports, Rural epilepsy programme etc.
National Epilepsy Day is celebrated on 17th November every year by most of the chapters by holding public awareness programmes, sports, scientific exhibition, painting and essay writing competition etc for children with epilepsy.
Annual Conferences: Joint annual conference of Indian Epilepsy Association and Indian Epilepsy Society is organized every year, where in medical and social aspects are covered.
12th Joint Annual Connference if IEA – IES was held in Ludhiana, Punjab on, 25-27 February 2011.
Support Groups: A number of chapters run support groups for people with epilepsy. Mumbai, Pune, Bangalore, Indore, Trivandrum chapters run very active programs to counsel PWE and their caregivers;; "Sanvedana", in Pune has a unique distinction of setting up a marriage bureau for people with epilepsy under the leader ship of Ms. Yashoda Wakankar..
Epilepsy India News Letter is published quarterly and circulated to all members.
Website of IEA. www.epilepsyindia.org is a very informative site detailing IEA activities.
Diploma in Epilepsy Care (Open to National & International students) a value added course for teachers, nurses, persons with epilepsy and carers, primary health care worker etc is conducted in association with CBR Network and Bangalore University.
IEA has taken initiative in defining disability in PWE whose seizures are uncontrolled.
Awards
This year (2011)

IEA

is proud to note that Dr Pravina Shah has been honored with Social Accomplishment award by

IBE

&

ILAE

.
In 2010, at Melbourne Conference -Mrs. Kavita Shanbagh has received Outstanding Person with Epilepsy Award and Prof P.Satishchandra received Asian & Oceanian outstanding Achievement Epilepsy Award.

IEA

already has seven members who have received Ambassador for Epilepsy Award – Drs.E P Bharucha, K S Mani, M C Maheswari , V S Saxena, Satish Jain, M M Mehndiratta, Carol D'Souza and Dr K S Mani was earlier bestowed with Social Accomplishment Award.
The concluding session was an open house discussion on epilepsy with participation from the audience. Dr. H V Srinvas, was the Moderator,and the Panel Members were Mr. Mike Glynn, Dr. K Radhakrishnan. Dr. Satish Jain, Dr Satish Chandra & Dr. Rajendran.
Dr HV Srinivas
Chair SEAREC