Singapore 2007
Report on the Symposium for People with Epilepsy and their Carers, held in conjunction with the 27th International Epilepsy Congress
The conference room was filled almost to capacity when the Symposium for People with Epilepsy and their Carers began on Saturday 7th July, marking the start of the 27th International Epilepsy Congress in Singapore.
These special events have become increasingly popular, attracting an every-growing number of delegates each time they are planned. They now take place immediately before every International Epilepsy Congress as well as at the time of both the biennial Asia Oceania Epilepsy Congress and the Latin American Congress.
The purpose of each symposium is three-fold:
to identify critical issues and challenges faced by people with epilepsy;
to investigate in depth upcoming information regarding epilepsy
to encourage those attending to form new friendships and to foster closer ties between local and international peers.
The structure and themes covered are selected to be attractive to people with epilepsy, caregivers, volunteers as well as to professionals allied to medicine. In addition, the symposium in Singapore was attended by a large number of neurologists and medical doctors.
Lay epilepsy organisations have long been aware of the importance of highlighting the difficulties faced by people living with epilepsy, so that professionals are aware of the importance of a holistic approach when it comes to epilepsy care. Awareness of the social implications of epilepsy is vital and people with epilepsy themselves are better placed than anyone else to explain what is it like to live with the condition.
Of course it is important for people with epilepsy themselves to be aware of problems they might encounter at various stages of their lives and how best to handle these. So the symposium can play a double role both in educating the person with epilepsy and those who care for them.
To encourage and facilitate participation at the symposium in Singapore IBE's Regional Committees in South East Asia and Western Pacific had allocated a portion of their annual budget as a bursary fund to provide support to delegates who might not otherwise have been able to attend. Bursaries had also been made available by both Regional Committees for the previous symposium, which was held at the time of the 6th Asia & Oceania Epilepsy Congress in Kuala Lumpur last November.
The symposium in Singapore was opened by Dr Andrew Pan, Vice Chair of the Regional Executive Committee Western Pacific and member of the Singapore Epilepsy Foundation. Andrew welcomed all those who had travelled to Singapore for the symposium and then read a welcome message on behalf of President Susanne Lund, who was unable to attend due to prior congress commitments. In her greeting, Mrs Lund stated that:
'The biennial international congress is a great opportunity to meet new people and to learn, to discuss and to share experiences common to all. By sharing knowledge and information we develop the means to increase not only one's personal understanding of epilepsy but also the knowledge and awareness of the community at large. You are all important players in this major task – improving the quality of life for people with epilepsy and their careers. I am full of admiration and respect for the, sometimes hard earned, experiences that people with epilepsy achieve and use to educate the public, and of course to support other people with epilepsy. This is something truly worth highlighting and to be grateful for.'
In closing, Mrs Lund conveyed her thanks to members of the committee from both the Singapore Epilepsy Foundation and the Epilepsy Care Group Singapore, who had worked tirelessly to make it all happen.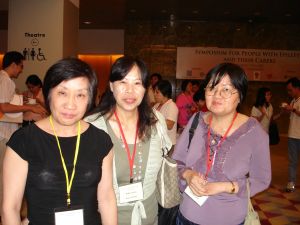 Delegates from Singapore enjoying the Symposium
The first formal session of the symposium focussed on epilepsy and education, and on cognitive problems that can be caused by epilepsy and by medication. The main speakers were Dr Choong Chew Thye and Dr Mike Hills, who spoke to the topics of "Educational needs of children with epilepsy" and "Educational and vocational needs of people with epilepsy" respectively.
The open forum discussion that followed was, as always, a lively affair. Issues addressed included refractory epilepsy, SUDEP and autonomic dysfunction. Another issue of interest to delegates was the use of yoga as an adjunct therapy in the management of refractory epilepsy.
After the coffee break, the second session of the morning focussed on employment opportunities for people with epilepsy in Taiwan and Singapore, with Dr Marshal Mo-Song Hsih and Ms Lieng making some very valid points and observations. Then it was time for lunch and some terrific interaction among delegates, who enjoyed animated discussion on the morning's sessions as well as on other areas of personal interest.
The afternoon sessions began with the screening of a video produced by Taiwan Epilepsy Association. This video describes different types of epilepsy and appropriate first aid treatment. It also includes moving interviews with some members of Taiwan Epilepsy Association who speak about their condition and how it affects their lives. The video has English sub-titles and this made it accessible to most of those attending the symposium.
Translation to the Japanese language was provided for the large contingent of delegates from Japan who travelled to Singapore to attend the congress.
The afternoon session continued with a look at the important issue of driving regulations. Mr Mike Glynn discussed the status on driving regulations in a number of countries, including Ireland, other European nations, and the USA. Mr Edmund Pereira, who is a lawyer by profession, then spoke about legal issues relating to epilepsy, driving, and other topics and this led to some very interesting debate and discussion.
The formal sessions continued with a look at Epilepsy and Marital Relationships, with Dr Andrew Pan providing insightful observations on some of the problems that can arise. The final topic was Epilepsy and Women, which covers a huge area including contraception, pregnancy and childbirth and motherhood. This session was chaired by Mr Sherman Goh from the Epilepsy Care Group, Singapore.
After a very busy and exciting day of lecture and debate, the delegates let their hair down and enjoyed a great evening at Raffles City Hall. Relaxed and happy, having enjoyed some good food, many delegates took to the stage to perform and sing. It was a truly memorable day!
The next Symposium for People with Epilepsy will take place in May 2008 at the time of the 8th Asia & Oceania Epilepsy Congress, Xiamen, China.