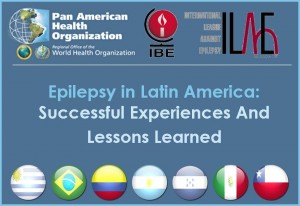 We would like to inform you that, regarding the Strategy and plan of action on epilepsy, a practical and limited Workshop will be held in the city of Santiago on August 9th and 10th. This Workshop will be organized by PAHO where a representative of IBE and ILAE and representatives of the Ministry of Health of six countries will attend: Uruguay, Brazil, Colombia, Argentina, Honduras, Mexico and Chile, which will show innovative and successful experiences.
In addition, PAHO's staff members will attend, chaired by Dr. Jorge Rodríguez. The conclusions of the workshop will be send at appropriate time. We enclose you the program for your information.
Kind regards,
Dr. Tomás Mesa, Dr. Carlos Acevedo, Dr. Alejandro de Marinis
Organizing Committee
Please note, attendance is limited and by invitation only
WORKSHOP
Epilepsy in Latin America: successful experiences and learned lessons
 Organizers: Ministry of Health of Chile, Chilean League against Epilepsy and International Bureau for Epilepsy
Cosponsors: Pan American Health Organization (PAHO), Chilean Epileptology Society, Society of Psychiatry and Neurology of Infancy and Adolescence. Chilean Society of Neurology, Psychiatry and Neurosurgery.  
Date: 9th and 10th August, 2013
Place: Hotel Torremayor
Av. Ricardo Lyon 322
Providencia, Santiago, Chile
ventas@hoteltorremayor.cl
(56-2) 2299 3000
Participant countries:  Uruguay, Argentina, Brazil, Chile, Colombia, Honduras,  Mexico.
Objetives:
Discuss some successful experiences and learned lessons in selected countries of Latin America, stressing primary care.
Contribute to Strategy and Plan of Action of Epilepsy in Latin America, establishing priorities for specific actions.

Click here to download the workshop programme.