The 7th Asian & Oceanian Epilepsy Congress (AOEC) took place in beautiful Xiamen on the south-east coast of China, from the 15th to the 18th May 2008.
The Scientific Programme was very attractive in common with the earlier Asian & Oceanian Epilepsy Congresses. The main topics were Diagnostic Issues in Paediatric Epileptology; Surgical Treatment of Symptomatic Epilepsy in Asia; Epilepsy Genetics – Towards Daily Practice; Epilepsy and Co-morbidities and Social Issues. Some new features were introduced into the programme including holding post main sessions simultaneously with other parallel sessions and platform sessions. The parallel sessions featured topics on Classification, Imaging, AED Issues, Ethical Issues and Basic Science as well as informative Video sessions. These topics in the Main, Post-Main and Parallel sessions were selected to ensure that the AOEC continues to be of high academic standard and clinically relevant.
A Chairman's Symposium was added to the first day of the congress. On the last day a Highlights session took place which summed up the main topics discussed at the 7th AOEC. The inaugural Masakazu Seino Memorial Lecture was held during the congress and it is hoped that the Memorial Lecture will become a permanent feature of future AOEC meetings. In addition, there was a two-day programme for people with epilepsy, focusing on support and education as well as the HOPE project.
A number of bursaries were available to those that submitted an abstract as well as to people with an interest in the meeting who did not have this possibility. All researchers and practitioners were encouraged to consider contributing to the programme by submitting abstracts for oral and poster presentations as investigators from diverse fields of research and both patient groups and foundations are making important progress in the understanding of epilepsy and it is vital that this information is shared and acknowledged.
Xiamen is a vibrant and bustling city that has a relaxing coastal charm and boasts numerous tourist attractions, including islands, temples and parks. It is also called "Egret Island" due to the thousands of egrets inhabiting there which is a truly magical sight. Places to visit include Gulangyu Island, Zhongshan Park, Xiamen Underwater Sea World and Nanpuoto Temple, to name but a few.
Special Programme for People with Epilepsy and Their Carers
A special programme organised by the IBE Western Pacific and South East Asia Regional Committees ran in parallel with the 7th AOEC from Thursday 15th to Saturday 17th May 2008. Keynote addresses, the HOPE project, informative training sessions, group discussions and a full day tour of Xiamen were some of the highlights of this programme.
On Thursday 15th May, participants were invited to take part in the 7th AOEC Opening Ceremony held in the Xiamen International Exhibition and Convention Centre (XICEC). Friday 16th May was a busy day with Shunglon Lai (Taiwan), Anchor Hung (Hong Kong) and Shichuo Li (China) coordinating a comprehensive range of events. The day began with a keynote address by the IBE President Susanne Lund (Sweden).
Much focus was on the Lectures from the AOEA experts, HOPE Project and the Outstanding Persons with Epilepsy, where individuals shared their personal experiences. Group discussions in a variety of languages were feature, enabling everyone to give their own view points. An informal Get Together Party was arranged in the evening for all participants of the IBE programme and it was a wonderful occasion.
On Saturday 18th May, a tour of Xiamen was arranged with visits to museums, memorials, and historical and cultural sites as well as the beautiful natural vistas of the island.
This Programme was supported by an Educational Grant from UCB Pharma.
Outstanding Persons with Epilepsy Awards
Outstanding persons nominated by IBE Member Associations in the South East Asian and Western Pacific Regions attended the Special Programme and told their own personal stories about how they deal with their epilepsy. These special people each has unique experiences of facing the difficulties of epilepsy and finding solutions in order to improve their confidence, quality of life and opportunities open to them.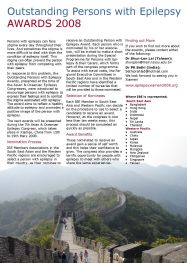 The following people were presented with the Outstanding Persons with Epilepsy Award:
Fang-Chih Chi
Rose Marie M Espina
Ming Ying Goi
Hoi Keung Pang
Ting-ting Lu
Moses Ong
Xiao-fei Shang
Carol De Souza