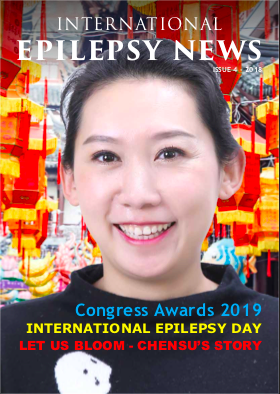 If one of the goals of the IBE is to allow the voices of people with epilepsy to be heard, then we have certainly delivered in this issue of the magazine.
Our cover features a photo of Zhang Chensu, a young woman from China who experienced her first seizures when on Chinese New Year holidays on the tropical island of Hainan.
The young Scottish videographer, Fraser Morton, tells us how the death of his brother from SUDEP was the inspiration for his experimental online magazine, A Life Electric, that provides the platform for people with epilepsy around the world to tell their stories.
IBE's International Golden Light Awards, to be presented for the first time at 33rd International Epilepsy Congress in Bangkok, will see young people recognised for making a difference, while the Personal Stories category of the video competition for this year's International Epilepsy Day are truly remarkable. Find the winners on page 18 and access the link to watch them all.
We also bring news of those selected to receive the Lifetime Achievement, Social Accomplishment and Ambassador for Epilepsy Awards in Bangkok and there's lots more to read in this issue of IE News. As always, I wish you pleasant reading.
Ann Little
Editor