As an umbrella organisation, IBE Chapters are comprised of national epilepsy associations whose focus is, in the main, on the social aspects of epilepsy and who, in turn, support people with epilepsy, their families and carers.
Recognising regional diversity, IBE Chapters are grouped within seven regional structures following the WHO regional boundaries: Africa, Eastern Mediterranean, Europe, Latin America, North America, South East Asia and Western Pacific.
IBE currently has 135 Chapters in 104 countries. The criteria for becoming a Chapter include the following.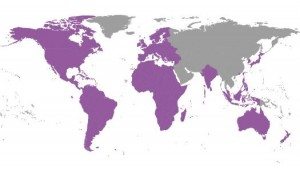 Chapter Criteria

Lay people – in particular people with epilepsy – must be able to have full membership and voting rights and be eligible for nomination and election to any elected position of the Chapter organisation.
People with a professional interest in epilepsy may also be members of the Chapter organisation.
Activities and goals of a Chapter organisation must be focused on improving the quality of life of people affected by epilepsy.
The Chapter organisation must have national status in that being a Chapter must be constitutionally accessible to all eligible people within the country;
The Chapter organisation must be formally organised with a written constitution agreed and in place and/or recognised by an appropriate authorising body.
The Chapter organisation must have a Constitution which does not conflict with that of the IBE.
Using the World Health Organization (WHO) definitions as a guide, the International Executive Committee determines the number and the definition of regions of the world within the IBE structure. IBE currently has the following regions: