Chairperson & Editor's message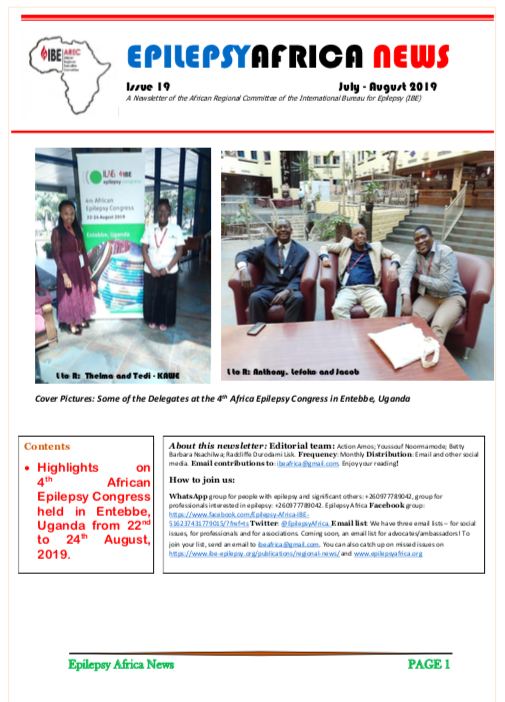 Welcome to this edition of Epilepsy Africa and very warm greetings to all readers of this important issue highlighting some of the features of the 4th African Epilepsy Congress held in Entebbe, Uganda from 22nd to 24th August, 2019.
The Congress hosted over 200 delegates and was considered to be interactive as more social issues were presented.
We wish to sincerely thank the Scientific and Organizing Committee for their tireless
effort to ensure a successful programme for the Congress. The Committee comprised of (from left to right in picture) Prof. Agallo Diop, Ms. Mary Secco, Dr. Jacob Mugumbate, Dr. Angelina Kakooza-Mwesige, Ms.HelenCrossand, Ms.Sarah Nekesa, a combined team of members from ILAE and IBE. We would want to appreciate the contributions by all speakers and the effort done to ensure informative sessions and the support that was provided by the host IBE and ILAE Chapters.
It was a unique conference where medical research was challenged with social issues that cannot be addressed solely with medical treatments or knowledge of numbers. This will form basis of future social oriented research for Africa.
We look forward to a successful Fifth Session of an African Epilepsy Congress in 2021, subject to funding with the host nation to be announced.
Action Amos
IBE Africa Vice President