Chairperson & Editor's message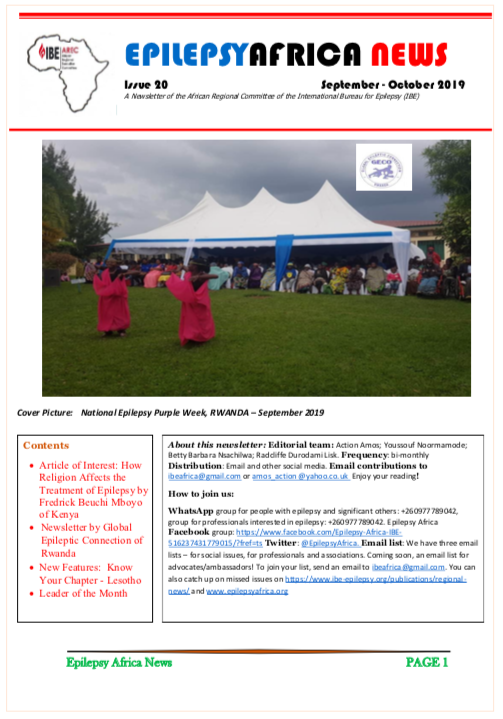 Welcome to this 20th edition of Epilepsy Africa and a very warm greeting from all over our beautiful continent. It is with joy that we share highlights of Epilepsy work happening in Africa that our affiliates have been doing across the continent.
There is a key emerging issue that researchers and other stakeholders have written and talked about. It is about alternative healing which would include faith and traditional healing. What can be done to involve and collaborate with those that practice such healing? In this edition, we feature an article on how religious belief affects epilepsy treatment.
Six months ago we celebrated the birth of two affiliates in Rwanda and Lesotho. In these two countries, there has been a lot that has been happening and we have special coverage of their work in the past two months. Lesotho introduces us to our new "verandah" corner "Know Your Chapter". In an effort to knowing each other and the work we are engaged in, we will be covering a continental leader who is leading or involved in Epilepsy work. This will not only feature those from our chapters but will include even ordinary citizens who are contributing to our cause of bringing epilepsy out of the shadows. This edition features a leader from Zimbabwe to get to know him and hear if there is anything good that comes out of Harare.
Let me thank all our 25 chapters for the good work that is being done and the support that you continue to render to our work as African Regional Executive Committee (AREC). We are excited as AREC with foreseeable prospects that our engagements in Africa are bringing.
We have lined up key strategic engagements and developments in our next article highlighting how we are gearing to have additional resources to support our work. We will feature two key developments in our 21st edition and urge you not to miss a copy.
Enjoy this article and don't forget to share what we like to hear from you!!!! Your work and stories!!!!
Action Amos
IBE Africa Vice President