Chairperson & Editor's message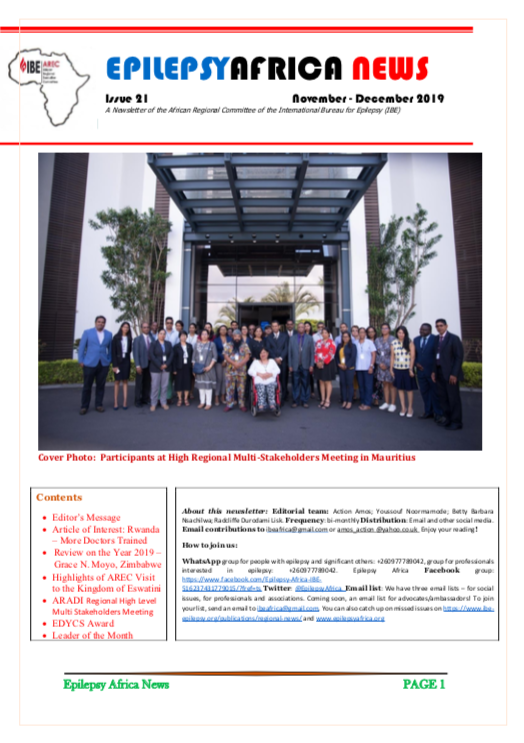 It is with excitement that we are closing this year 2019. AREC is excited with new and potential that this region will working on in 2020. As was promised in the last edition of our newsletter we indicated that we will be having a pilot situational analysis in Rwanda and Eswatini and we are excited to inform all that the data collection was completed. We want to than the chapters that were involved. We are hoping to replicate this with other chapters soon.
A team from AREC was privileged to travel to Eswatini to meet with the Chapter as well as work on the upcoming African Epilepsy Fund. We are excited to inform you that we are now on the verge of full registration with the identification of the Board and Patron including an AU Ambassador who is Past President of one of the African counties already identified. We are excited to inform you that the Kingdom of Eswatini has offered to host the Trust Fund with full government support. The full report is contained in this newsletter. Our newsletter will contain feedback that has been received from members on the establishment of the Trust whose sole purpose is to support all chapters in capacity building, economic empowerment and educational grants.
In gearing for 2020 we are excited with negotiations that are on the table to develop an Inclusive Epilepsy Advocacy Toolkit. All chapters will be involved in the consultations of its content with a smaller team having to work on it later. Additionally, negations on the Promising Strategies Fund are on the table and by the time you are reading this edition due to publishing delays a call is now out!!!! There is an increase now in funding to the tune of $20,000 to be awarded to Chapters with successful proposals.
We would want to take this opportunity to celebrate award winning Chapter Leader Mr Youssouf Noormamode from Mauritius who was awarded a Regional Leadership Award. We say "Bravo!!!!! We look forward to your continued advocacy work in IBE and Africa. As additional caps, the IBE Vice President and AREC Chairperson, Mr Action Amos and the AREC Vice President Mr Youssouf Noormamode was elected Vice President with Action Amos elected as a Board member were both nominated to sit on the Board of Africa Disability Alliance. The term of office will be five years.
We take this opportunity to thank all that have stood with AREC and its Chapters in 2019 especially IBE Executive Management, Band Foundation and African Disability Alliance. Without our Chapters we would not be where we are as we gear up for 2020.
Action Amos
IBE Africa Vice President