Chairperson & Editor's message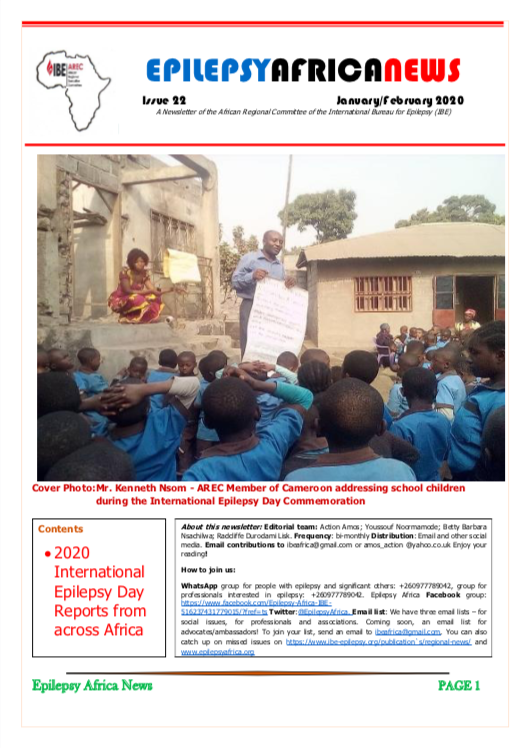 We are excited with developments that took place during this period. We had over 15 Chapters celebrate the Epilepsy Day across Africa. Chapters showed their capability in engaging and partnering policymakers, civil society organization and like-minded organization in spreading the message of friendship and inclusion. The message was spread in churches, schools, community gatherings and hospitals across the continent to show the diversity of where epilepsy gospel can be spread. Social media, radios, television. We say BRAVO!!!!! to all persons with epilepsy, self-advocates and other stakeholders that devoted time on this special day to advocate for inclusion. In this article we will share with you some of the experiences of this years' Epilepsy Day.
We are also excited to inform you about the outcome of the World Health Organization Executive Board meeting that took place in Geneva, Switzerland in January, 2020. The Epilepsy Agenda item that mainly focused on states to create National Epilepsy Plans was supported by all 47 WHO Afro countries with Gabon taking the responsibility to present a paper indicating the Regional Support. Zambia and Swaziland are co-sponsoring the resolution together with Russia and China and other four countries spread across different continents. As we speak, efforts are now being made to work on the recommendations to have a synergy of epilepsy and other neurological conditions. It expected that in May as promised by WHO another Resolution on Epilepsy and the synergy with other neurological disorders will be discussed. We want to thank the team that participated in the lobbying the Dr Samuel Wiebe, Dr Guehkt (both from ILAE), together with Vice President of International Bureau of Epilepsy Action Amos and Mary Sacco the Secretary General for International Bureau of Epilepsy.
We also want to thank all Chapters that responded to the questionnaire on the Advocacy Toolkit. We are at an advanced stage of consultation and soon we will be sharing feedback with you all. This toolkit will enhance how we engage in our advocacy and lobbying work which are key if persons with epilepsy are to be included. There was also overwhelming response to Promising Strategies Call from many chapters and the shortlisting for the full proposals was done. We thank you all those that sent in your Letters of Intent. We endeavor to work with Band Foundation to raise more funds to support more Chapters with new initiatives as we strengthen our relationship between the African Regional Executive Committee (AREC).
In this edition, we do not feature Know Your Chapter and Leader of the Moment as we dedicate it to the Epilepsy Day. We are going to be having yet another Youth Section – Youth Shakers (You Sha!!!) which will feature efforts that youth with epilepsy are doing on the continent to change the face of epilepsy. Let me thank your continued support to Epilepsy in Africa and to the AREC. Relax and enjoy this edition and be CORONA and Epilepsy Awake!!!!!
Action Amos
IBE Africa Vice President