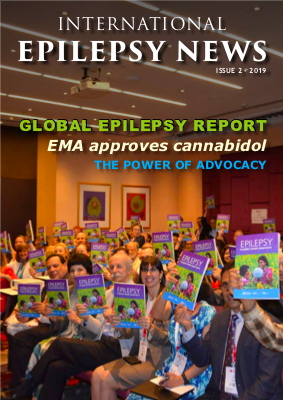 Since the last issue of International Epilepsy News, it's been a busy time for IBE.
The biggest event was the 33rd International Epilepsy Congress in Bangkok. For IBE, a highlight of the congress was the Golden Light Awards, which was a major success. One of the eight wonderful young people who received an award, Scarlett Paige, shares her diary post-Bangkok in this issue.
Also in Bangkok, the Global Epilepsy Report was launched during a lively symposium where enthusiasm for and appreciation of the report was clear to see. The full report and a summary are available to download on the IBE website www.ibe-epilepsy.org.
In Europe, a major issue has been approval by the European Medicines Agency of cannabis projects as an adjunct treatment in two rare epilepsy syndromes and the ePAG group invites you to get involved.
A word of warning on the problems that the use of essential oils can cause is brought to us by Dr Thomas Mathew from India, where such products are very widely used.
Find out about recent initiatives of Epilepsy South Africa and also enjoy reading news from Bolivia, Spain, Australia and Ireland.
Happy reading!
Ann Little
Editor