Floral scents that benefits many
How did one Prague non-profit deal with the extraordinary circumstances of a state of emergency? With 'magic flowers'! These are created by people with epilepsy and can help those in need.
The non-profit organization Společnost E operates a flower workshop, 'The Arrangement', in Prague. People with epilepsy and their loved ones work in it. It is often the only achievable way of living for them. The shop lost most of its orders in a state of emergency. Theatres, receptions, cafes, weddings…
"We didn't ignore it either," says the head of the workshop, Tereza Chvalová. "We definitely don't hang the apron up on a nail or throw pots into the rubbish bin. We leave most of our employees at home for their safety, but we have a couple of hard workers who have prepared a beautiful spring offer. We still create bouquets or flower decorations and we can deliver them contactlessly to the customer's doorstep. "
'Magic Flowers' help
However, there are significantly fewer orders than before the emergency situation, when bouquets were tied in The Arrangement for the National and Company Theatres, the Cirk la Putyka Theater, the Albatros Media publishing house and twelve Prague cafés.
The people in the Arrangement therefore "rolled up their sleeves" and included 'Magic Flowers' in their spring offer. It has one magical feature – it can help those in need. It is a bit more expensive, but at least half of its price goes to online psychosocial counselling for people in need, which Společnost E decided to provide not only to people with epilepsy and their loved ones during the quarantine period, but to everyone who needs advice in the current situation, such as seniors.
"A flower is a means for us to help," explains Tereza Chvalová. "Thanks to CZK 600, we can provide 1 hour of professional psychosocial counselling. And to help people who need it. "
She recommends sending the Magic Flowers to people who cannot celebrate a special occasion with their family or friends, parents or grandparents who remain in isolation during the quarantine period, as a thank you to doctors or teachers, but also to companies as a reminder to their employees that they do not relax even when working at their new home office, or to clients to stay connected. "This will let everyone know that you care about good things," adds Tereza Chvalová.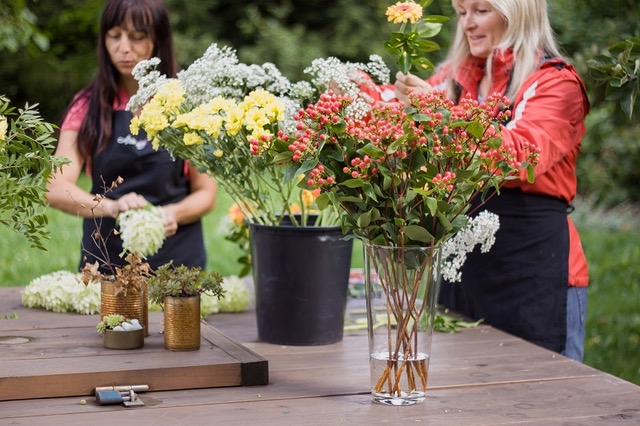 Florists with epilepsy
Epilepsy is a neurological disease that cannot be completely cured, it can only stabilize. Some people with this disease are able to go to work normally, others need a special regime. The florist's workshop and the social enterprise Aranžérie are open for them, which is often the only possible source of income for its employees. The workshop is run by the non-profit organization Společnost E, which will celebrate 30 years of continuous work for people with epilepsy in May this year. The organization publishes, focuses on education and awareness, social entrepreneurship and employs social workers who provide professional psychosocial counselling to people with epilepsy. It is free for all interested parties. Společnost E has now decided to expand its advice and offer it to the general public.
"We do not stop working in an emergency. On the contrary, we are aware that not only people with epilepsy may need our support more than before, "says Alena Červenková, President of Společnost E.
Společnost E's psychosocial counselling is provided by an experienced team of social workers, a psychologist, a doctor and a lawyer. Everyone has many years of experience with epilepsy. The interviews focus on solving the social situation or sharing worries about how to manage life even in a time of pandemic. For moments of personal crisis, a psychologist is available to those interested. People can call for advice, write e-mails and talk on Skype.
"We want to offer what we do well during a company pandemic," concludes Alena Červenková. "Therefore, we will provide free counselling online not only to people with epilepsy, but to everyone who contacts us. Because the need to talk to someone about their fears and worries may not only grow in people with epilepsy. "