Chairperson & Editor's message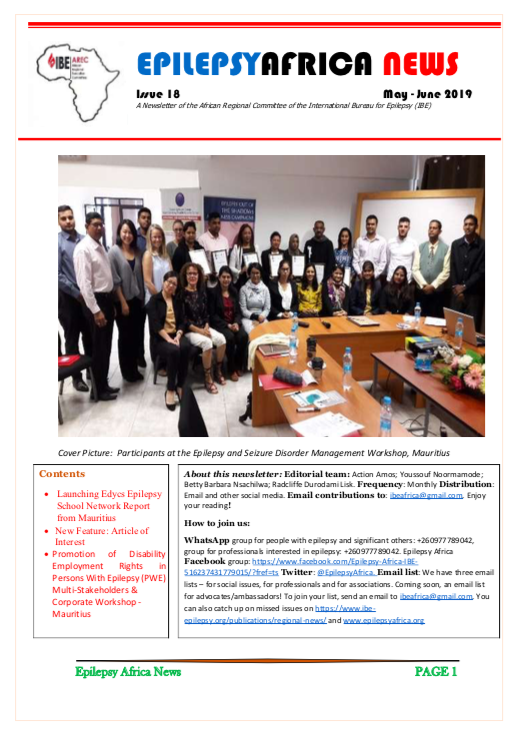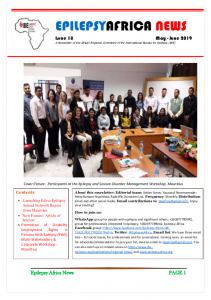 Welcome to this edition of Epilepsy Africa and very warm greetings to all new readers since our last new regional newsletter went out. It is with excitement that Africa welcomes two new members (Rwanda and Lesotho) to its International Bureau of Epilepsy family. Since the completion of tenure of office for our past President Dr. Jacob Mugumbate, it is with all humbleness that I join a capable team of Epilepsy leaders on the continent as the new Vice President for Africa.
The year is already going by very quickly and our organization is active on many fronts in Africa. It is with joy that engagement with Africa Union was resumed and engagements by our Mauritian Chapter has seen epilepsy being recognized by the African Union as a disability. This, therefore, will enhance our effort of fighting stigma and discrimination together with others disabilities.
Africa was well represented in the General Assembly that took place in Bangkok. Significant issues for persons with epilepsy such as poverty, access to medication, employment and health were covered in the discussion that took place. We continue to advocate for change and have made efforts to engage promptly and effectively within six (6) governments under the Band Supported Advocacy Project. The project will see the targeted countries develop national epilepsy plans.
This Newsletter will be published at a time of significant change in epilepsy as the sector – we are informed after the launch of the Epilepsy Report 2019. Africa looks forward ahead to use the report to ensure inclusion of persons with epilepsy in reducing the burden, fighting stigma, reducing the treatment gap and prevention of epilepsy. There is a high need to ensure that as a region we have a coordinated action to prioritize epilepsy.
As we move forward as a region, we will need to refocus our attention to the needs of persons in the continent and mainly our Chapters in terms of capacity building, resource mobilization, not leaving our youths and women with epilepsy behind. However, change as we know takes time, effort and persistence. I would, therefore, like to acknowledge all those advocates for change that make the IBE family tick at all levels. We should all look forward to playing our part in this process
Action Amos
IBE Africa Vice President