[one_half]
We are pleased to report the Results of the Election of Members to the Regional Executive Committees for the coming term 2013 – 2017 which commenced 26th June 2013.
[/one_half]
[one_half last]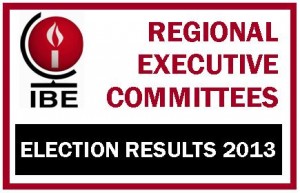 [/one_half]
Regional Executive Committees
All members of IBE are grouped within geographical sectors known as regions, of which there are seven. Each voting Member of IBE is a member of a Regional Committee and has one vote within it. Other non-voting members of IBE are non-voting members of a Regional Committee.
IBE Regions
Africa
Eastern Mediterranean
Europe
Latin America
North America
South East Asia
Western Pacific
Each Regional Committee elects a Regional Executive Committee (REC), to include at least a Chair, a Vice Chair and a Secretary, and this REC is accountable to, and reports to the International Executive Committee and also to the voting Members of the Regional Committee. The term of office is four years and runs in tandem with the term of the International Executive Committee. Each Regional Committee also elects one Vice-President to the International Executive Committee. The International Executive Committee Vice President for each region also serves as an ex officio member with full voting rights on his or her Regional Executive Committee.
Terms of Reference – Click to download
Africa
Elected Regional Executive Committee 2013 – 2017
Chair: Youssouf Noormamode, Mauritius
Vice Chair: Marina Clarke, South Africa
Secretary: Harmiena Riphagen, Namibia
[one_third]
[/one_third]
[one_third]
[/one_third]
[one_third last]
[/one_third]
Eastern Mediterranean
Elected Regional Executive Committee 2013 – 2017

Chair:  Chahnez Triki, Tunisia
Vice Chair: Abderrahmane Chahidi, Morocco
Secretary:  Nahida El Assi, Lebanon
[one_third]
[/one_third]
[one_third]
[/one_third]
[one_third last]
[/one_third]
Europe
Elected Regional Executive Committee 2013 – 2017

Chair:  Anastasia Vassou, Greece
Vice Chair: Michael Alexa, Austria
Secretary:  Ljubica Vrba, Slovenia
Member: Margaretha Andersson, Sweden
Member: Shirley Maxwell, Scotland
[one_third]
[/one_third]
[one_third]
[/one_third]
[one_third last]
[/one_third]
[one_third]
[/one_third]
[one_third]
[/one_third]
[one_third last] [/one_third]
Latin America
Elected Regional Executive Committee – 2013 – 2017

Chair:  Tomás Mesa, Chile
Vice Chair: Galo Pesantez, Ecuador
Secretary:  Alicia Bogacz, Uruguay
[one_third]
[/one_third]
[one_third]
[/one_third]
[one_third last]
[/one_third]
North America
Elected Regional Executive Committee 2013 – 2017

Chair:  Mary Secco, Canada
Vice Chair: Sandy Finucane, USA
[one_third]
[/one_third]
[one_third]
[/one_third]
[one_third last] [/one_third]
South East Asia
Elected Regional Executive Committee 2013 – 2017

Chair:  Parthasarthy Satishchandra, India
Vice Chair: Muzharul Mannan, Bangladesh
Secretary:  Kabindra Man Pradhan, Nepal
[one_third]
[/one_third]
[one_third]
[/one_third]
[one_third last]
[/one_third]
Western Pacific
Elected Regional Executive Committee 2013 – 2017

Chair:  Denise Chapman, Australia
Vice Chair: Frank Gouveia, New Zealand
Secretary:  Yuan Fu Tseng, Taiwan
[one_third]
[/one_third]
[one_third]
[/one_third]
[one_third last]
[/one_third]
IBE Regions – Click to visit Regional pages